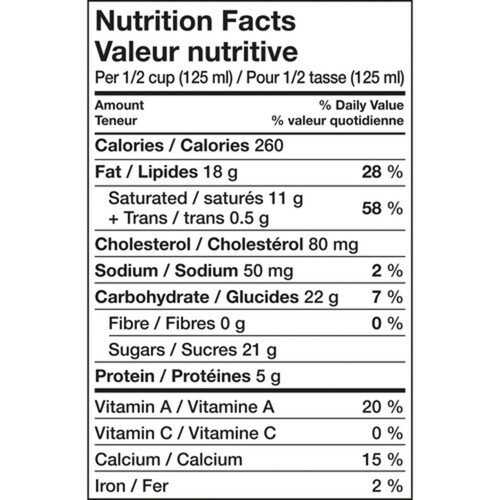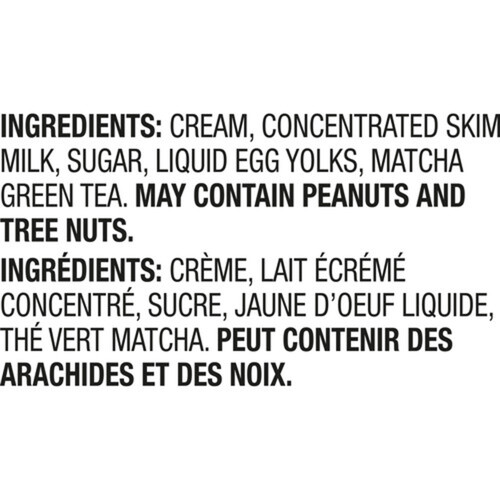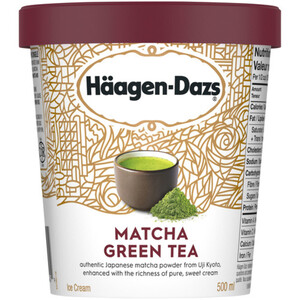 Häagen-Dazs Matcha Green Tea Ice Cream 500 ml
Product Information
There's something simply extraordinary about Häagen-Dazs; Matcha Green Tea (500 ml). Authentic Japanese matcha powder from Uji, Kyoto, is blended with the rich creaminess of 100% Canadian dairy. This careful blend of five simple ingredients; milk, cream, egg yolks, sugar, and Japanese Matcha tea creates a delicate, yet full-bodied, flavour that you'll fall in love with.
Ingredients
Cream, Concentrated Skim Milk, Sugar, Liquid Egg Yolks, Matcha Green Tea. May contain peanuts and tree nuts.
Storage
Do not refrigerate
Preparation And Usage
Add 2 tbsp (30 ml) syrup + into 1½ cups (375 ml) milk Remember small kids require smaller portions.
Nutritional Information
per per 1/2 cup (125 m
| Amount                               | % Daily Value |
| --- | --- |
| Calories 260 | |
| Fat 18 g |                      28 % |
|  Saturated 11 g |                      58 % |
|  + Trans 0 g | |
|   Omega-6 0 g | |
|   Omega-3 0 g | |
|  Monounsaturated Fats 0 g | |
| Cholesterol 80 mg | |
| Sodium 50 mg |                      2 % |
| Potassium 0 mg |                      0 % |
| Carbohydrate 22 g |                      7 % |
|  Fibre 0 g |                      0 % |
|  Sugars 21 g | |
|  Sugar Alcohols 0 mg | |
| Protein 5 g | |
| Vitamin A |                      20 % |
| Vitamin C |                      0 % |
| Calcium |                      15 % |
| Iron |                      2 % |