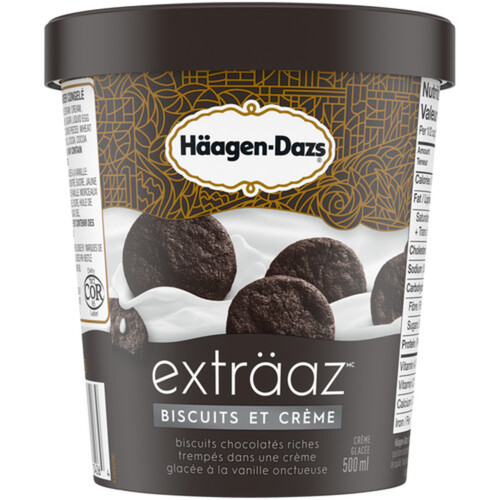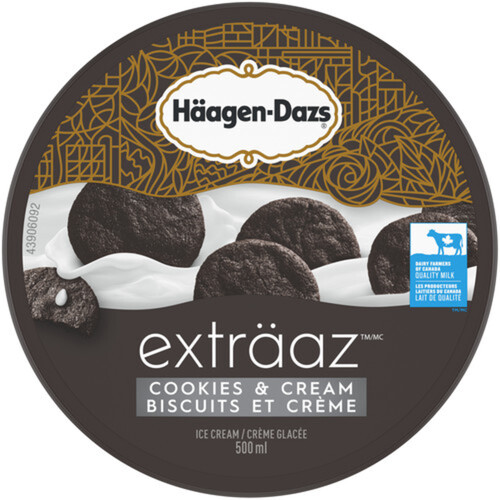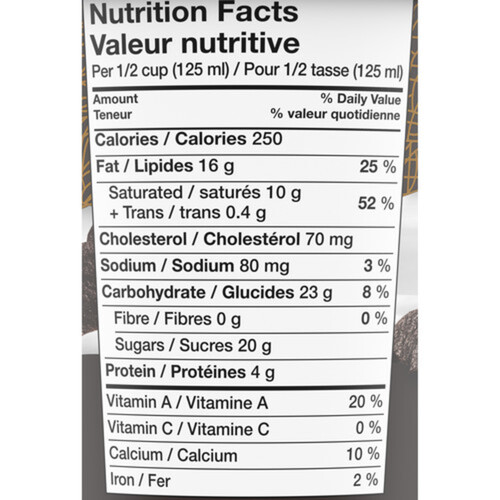 Häagen-Dazs Exträaz Cookies & Cream Ice Cream 500 ml
Product Information
Take indulgence to the next level with Häagen-Dazs Exträaz Cookies & Cream Ice Cream. Enjoy the decadently distinct Häagen-Dazs ice cream infused with textured ingredients, bringing you a unique experience that will satisfy your richest cravings. Chunks of rich, chocolatey cookies are dunked into iconic vanilla ice cream, made with 100% Canadian dairy.
Ingredients
Vanilla Ice Cream: Cream, Concentrated Skim Milk, Sugar, Liquid Egg Yolk, Vanilla Extract. Cookie Pieces: Wheat Flour, Sugar, Coconut Oil, Cocoa, Cocoa Mass, Salt, Baking Soda. May contain peanuts and tree nuts.
Storage
Do not refrigerate
Preparation And Usage
Add 2 tbsp (30 ml) syrup + into 1½ cups (375 ml) milk Remember small kids require smaller portions.
Nutritional Information
per per 1/2 cup (125 m
| Amount                               | % Daily Value |
| --- | --- |
| Calories 250 | |
| Fat 16 g |                      25 % |
|  Saturated 10 g |                      52 % |
|  + Trans 0 g | |
|   Omega-6 0 g | |
|   Omega-3 0 g | |
|  Monounsaturated Fats 0 g | |
| Cholesterol 70 mg | |
| Sodium 80 mg |                      3 % |
| Potassium 0 mg |                      0 % |
| Carbohydrate 23 g |                      8 % |
|  Fibre 0 g |                      0 % |
|  Sugars 20 g | |
|  Sugar Alcohols 0 mg | |
| Protein 4 g | |
| Vitamin A |                      20 % |
| Vitamin C |                      0 % |
| Calcium |                      10 % |
| Iron |                      2 % |