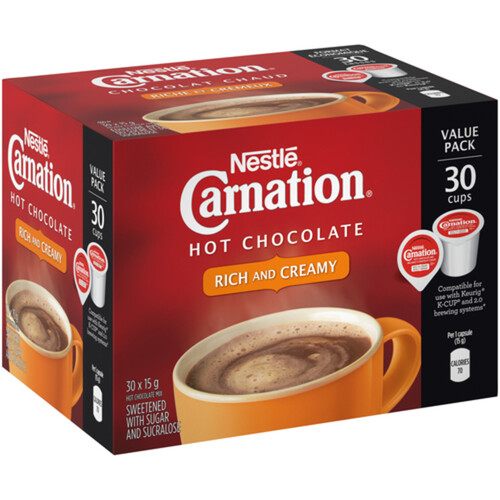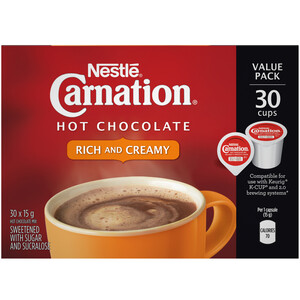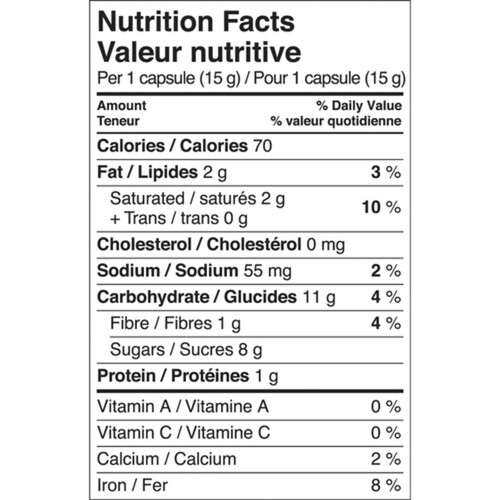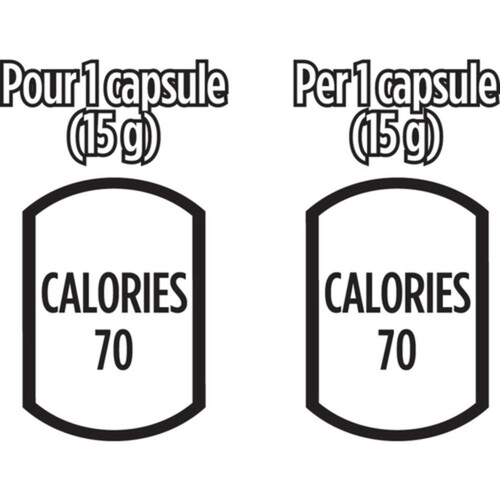 Nestlé Carnation Hot Chocolate Rich & Creamy 30 Pods 450 g
Product Information
Is there anything better than a warm mug of hot chocolate on a cold day? Nestlé Rich and Creamy Carnation Hot Chocolate (30 x 15 g) brews an incredibly delicious hot chocolate in mere seconds, using the Keurig and the 2.0 brewing system. Each single-serve capsule is made with pure cocoa for quality chocolatey taste. Have a sip today!
Ingredients
Sugar, Cocoa, Corn Syrup Solids, Hydrogenated Coconut, Palm Kernel and Soy Oils, Modified Milk Ingredients, Salt, Soy Lecithin, Dipotassium Phosphate, Mono- and Diglycerides, DATEM, Sucralose, Artificial Flavour. May contain wheat.
Recycling Information
Brew it. Sip it. Recycle it. Recycling Information: Once capsules have cooled entirely, follow these easy steps: 1. Peel lid away from the pod and discard. 2. Recycle empty pod where #5 plastics are accepted.
Nutritional Information
per per 1 capsule (15
| Amount                               | % Daily Value |
| --- | --- |
| Calories 60 | |
| Fat 3 g |                      4 % |
|  Saturated 2 g |                      13 % |
|  + Trans 0 g | |
|   Omega-6 0 g | |
|   Omega-3 0 g | |
|  Monounsaturated Fats 0 g | |
| Cholesterol 0 mg | |
| Sodium 170 mg |                      7 % |
| Potassium 125 mg |                      3 % |
| Carbohydrate 10 g |                      3 % |
|  Fibre 1 g |                      4 % |
|  Sugars 6 g | |
|  Sugar Alcohols 0 mg | |
| Protein 1 g | |
| Vitamin A |                      0 % |
| Vitamin C |                      0 % |
| Calcium |                      0 % |
| Iron |                      2 % |