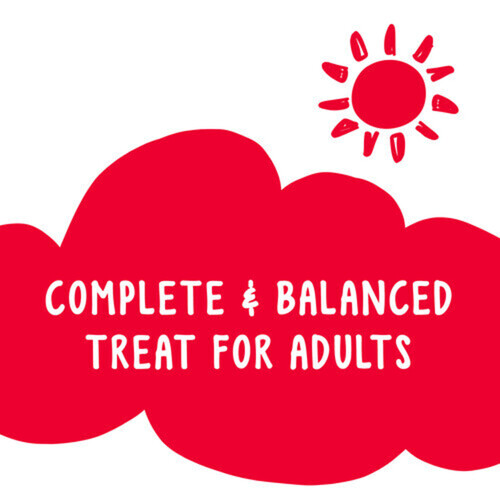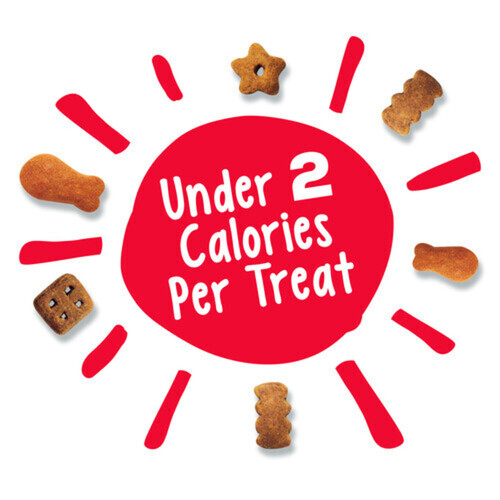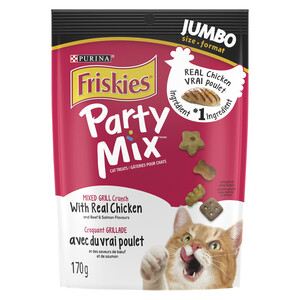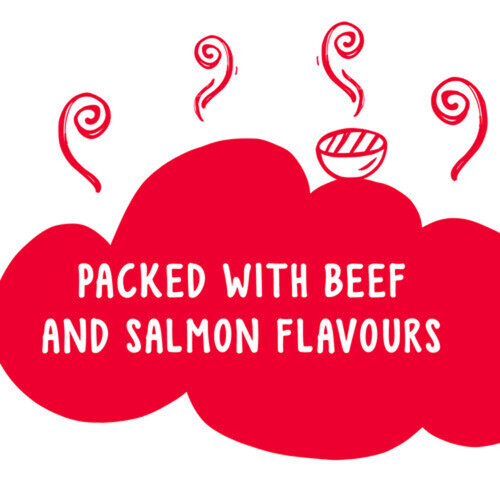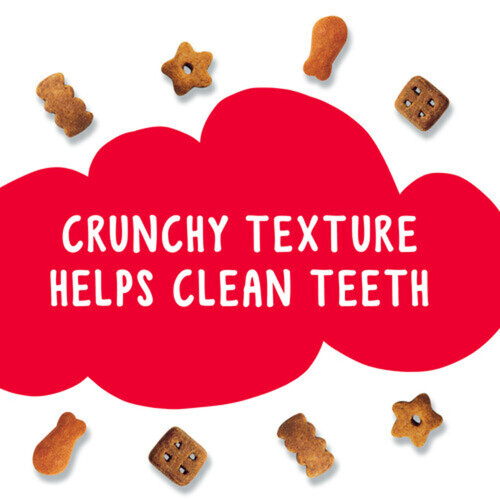 Friskies Cat Treats Party Mix Grill Crunch 170 g
Product Information
Give your cat a burst of delicious flavour at treat time with Purina Friskies Party Mix Mixed Grill Crunch adult cat treats. Real chicken is the #1 ingredient, and every bite delivers a tempting combination of chicken, beef and salmon flavours to please your cat's palate. The satisfying crunchy texture is sure to have her licking her lips after every nibble and the intriguing shapes add extra fun to snack time each day. Toss her a cat treat between meals as a tasty reward for being your best friend, or offer up a few pieces whenever you want to spend a few moments cuddling with your cat companion. At less than 2 calories per treat, these Purina Friskies Party Mix cat treats offer a guilt-free way to indulge her cravings for savoury, meaty goodness. She gets a mouthwatering snack she can't resist, and you get the satisfaction that comes from putting a smile on her face.
Product Features
Real chicken is the #1 ingredient Cat treats with beef and salmon flavours Helps clean your cat's teeth Under 2 calories per cat treat Unique shapes to keep her engaged during treat time Cat treats packaged in a convenient resealable pouch to help preserve freshness
Ingredients
Water, Meat By-Products, Wheat Gluten, Chicken, Soy Flour, Corn Starch-Modified, Tuna, Artificial and Natural Flavours, Sodium Caseinate, Tricalcium Phosphate, Vegetable Oil, Vegetable Starch-Modified, Corn Starch, Minerals, Salt, Dried Whey, Added Color, Sodium Phosphate, Taurine, Trisodium Phosphate, Choline Chloride, Scallop Flavour, Vitamins, Sorbic Acid (a Preservative), Added Colour. A615419.
Preparation And Usage
Feeding instructions: feed your adult cat 4 treats for each 1 kg (2.2 lbs) of body weight, not to exceed up to 10 treats daily as a reward or tasty snack. Purina Friskies Party Mix Mixed Grill Crunch provides 100% complete and balanced nutrition for adult cats so that they will not dilute the nutritional value of your cat's regular maintenance diet. To maintain your cat's proper weight, reduce the amount of cat food offered proportionately to the amount of snacks you feed your cat.