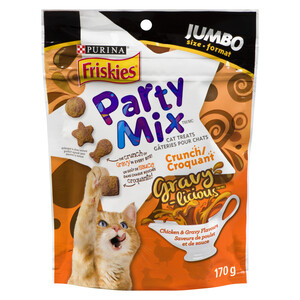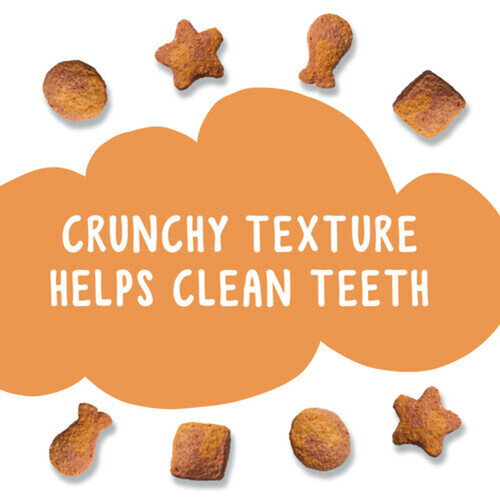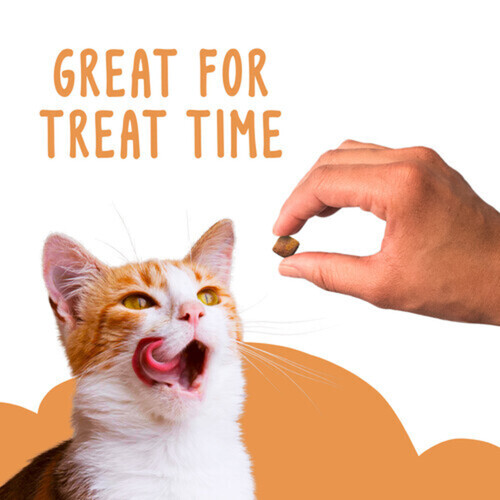 Friskies Cat Treats Party Mix Gravy-licious Chicken & Gravy Crunch 170 g
Product Information
Get the party started when you offer your cat Purina Friskies Party Mix Crunch Gravylicious Chicken Flavour cat treats. With tasty chicken flavour that feeds her cravings for poultry, these cat treats are sure to bring her running to your side as soon as you open a pouch. Savoury gravy flavour enhances each cat treat to provide a meow-worthy snack that keeps her coming back for more. The crunchy texture of every gravy-licious treat helps to clean her teeth, while the unique shapes keep your feline friend interested at treat time. She gets the crunch of gravy in every purr-worthy bite, and you get the satisfaction of knowing that you're offering her a snack formulated with high-quality ingredients you can trust. Make the special moments you share with your cat companion even more special when you choose Purina Friskies Party Mix Crunch Gravylicious Chicken Flavour cat treats.
Product Features
Tasty chicken flavour cat treats feeds your cat's poultry cravings Savoury gravy flavour pleases her palate Crunchy texture helps clean teeth Under 2 calories per cat treat Unique shapes to keep her engaged during treat time Cat treats packaged in a convenient resealable pouch to help preserve freshness
Ingredients
Water Sufficient for Processing, Ocean Whitefish, Wheat Gluten, Poultry, Rice, Powdered Cellulose, Corn Starch-Modified, Spinach, Meat By-Products, Liver, Artificial and Natural Flavours, Soy Flour, Tricalcium Phosphate, Added Colour, Taurine, Choline Chloride, Salt, Vitamins, Minerals, Red 3. H-6083-C.
Storage
Store in a cool, dry place.
Preparation And Usage
Feeding instructions: feed as treat to your adult cat. This product is a treat and is not intended to be fed as a meal. Feed 4 treats for each 1 kg (2.2 lbs) of body weight, not to exceed 10 treats per day. The caloric intake from treats should not exceed 10% of a cat's total daily caloric requirement. If treats are given, the amount of food should be reduced accordingly. Provide adequate fresh water in a clean container daily. For your pet's health, see your veterinarian regularly.