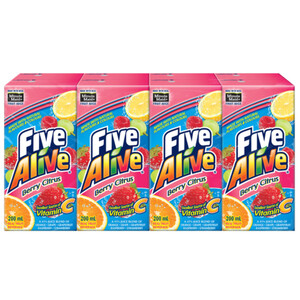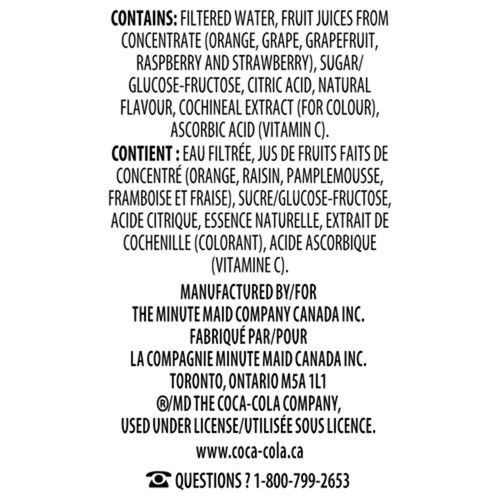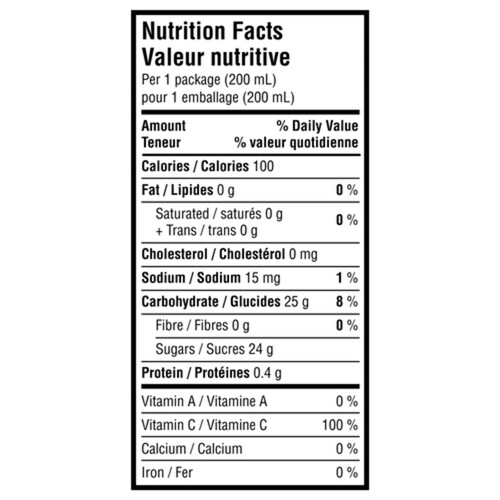 Five Alive Juice Berry Citrus 8 x 200 ml
8 x 200ml
($0.27 per 100ml)
Product Information
No boring juice here. This delicious blend of orange, grape, grapefruit, raspberry and strawberry is made from real fruit, is an excellent source of Vitamin C and available in convenient juice boxes.
Storage Tips
TETRA PACK(JUICE BOX
Ingredients
FILTERED WATER, FRUIT JUICES FROM CONCENTRATE (ORANGE, GRAPE, GRAPEFRUIT, RASPBERRY AND STRAWBERRY), SUGAR/GLUCOSE-FRUCTOSE, CONCENTRATED WATER EXTRACT OF ORANGE, CITRIC ACID (CONTROLS TARTNESS), NATURAL FLAVOUR, COLOUR.
Nutritional Information
per 1 package (200
| Amount                               | % Daily Value |
| --- | --- |
| Calories 100 | |
| Fat 0 g |                      0 % |
|  Saturated 0 g |                      0 % |
|  + Trans 0 g | |
|   Omega-6 0 g | |
|   Omega-3 0 g | |
|  Monounsaturated Fats 0 g | |
| Cholesterol 0 mg | |
| Sodium 15 mg |                      1 % |
| Potassium 0 mg |                      0 % |
| Carbohydrate 25 g |                      8 % |
|  Fibre 0 g |                      0 % |
|  Sugars 24 g | |
|  Sugar Alcohols 0 mg | |
| Protein 0 g | |
| Vitamin A |                      0 % |
| Vitamin C |                      100 % |
| Calcium |                      0 % |
| Iron |                      0 % |