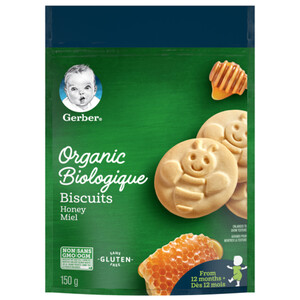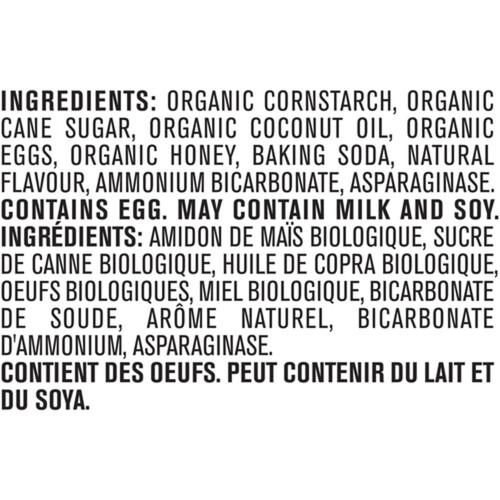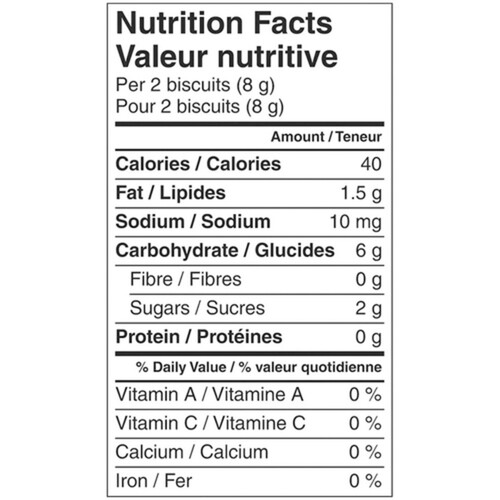 Gerber Organic Gluten-Free Biscuits Honey 150 g
Product Information
Appropriate for toddlers 12 months and up. Made for your little toddler. GERBER Organic Biscuits are gluten-free and made with no artificial colours or preservatives. Even more, GERBER Organic Biscuits are the right texture for toddlers, are easy to chew, and are perfectly shaped and sized for little hands.
Ingredients
Ingredients Organic Cornstarch, Organic Cane Sugar, Organic Coconut Oil, Organic Eggs, Organic Honey, Baking Soda, Natural Flavour, Ammonium Bicarbonate, Asparaginase.
Preparation And Usage
Place on rounded teaspoon of coffee into a mug, add boiling water, stir, and enjoy.
Nutritional Information
per per 2 biscuits (8
| Amount                               | % Daily Value |
| --- | --- |
| Calories 40 | |
| Fat 2 g |                      2 % |
|  Saturated 0 g |                      0 % |
|  + Trans 0 g | |
|   Omega-6 0 g | |
|   Omega-3 0 g | |
|  Monounsaturated Fats 0 g | |
| Cholesterol 0 mg | |
| Sodium 10 mg |                      1 % |
| Potassium 0 mg |                      0 % |
| Carbohydrate 6 g |                      0 % |
|  Fibre 0 g |                      0 % |
|  Sugars 2 g | |
|  Sugar Alcohols 0 mg | |
| Protein 0 g | |
| Vitamin A |                      0 % |
| Vitamin C |                      0 % |
| Calcium |                      0 % |
| Iron |                      0 % |