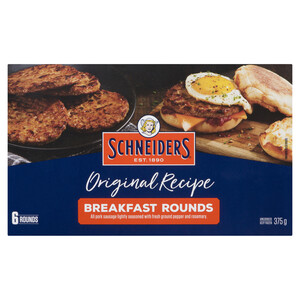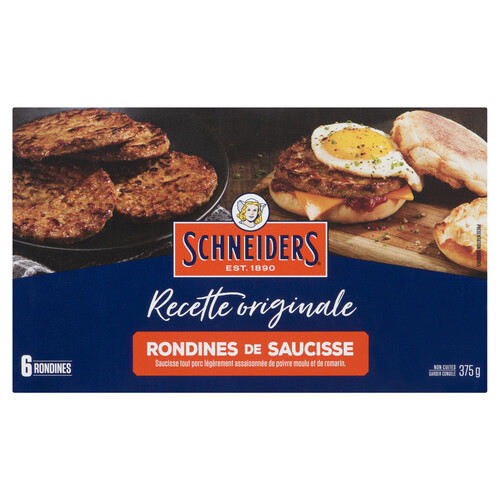 Schneiders Original Recipe Breakfast Sausage Rounds 375 g
Product Information
Treat yourself to a delicious breakfast with Schneiders Original Recipe Breakfast Sausage Rounds. These all-pork sausage rounds are lightly seasoned with fresh ground pepper and rosemary for rich, irresistible flavour. They're free-formed with no casing, giving a satisfying crumble in your mouth as you bite into them. Try these pork sausage patties with eggs or pancakes, or atop your favourite breakfast sandwich. Since 1890, Schneiders brand has established a rich heritage of original and authentic recipes, using premium ingredients and taking all the time needed to honour the origin and inspiration of each recipe. Quality never gets old.
Cooking & Usage Tips
Preparation Instructions: Cook From Frozen. If Thawed; Cook Immediately. Cooking Instructions: For Best Tasting Sausages; Prepa Re On Stove Top. Place Sausages Into A Cold; Lightly Greased Frying Pan. Cover Over Medium Heat For 8-10 Minutes; Turning Occasiona Lly. Cook Until An Internal Temperature Of 165°F (74°C) Is Reached. Not Recommended For Microwave Cooking.