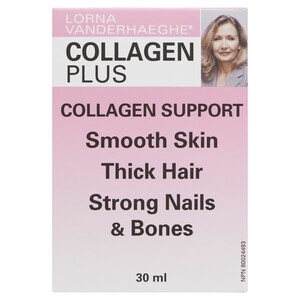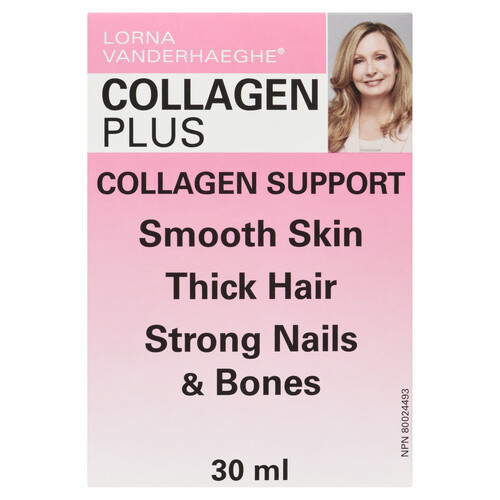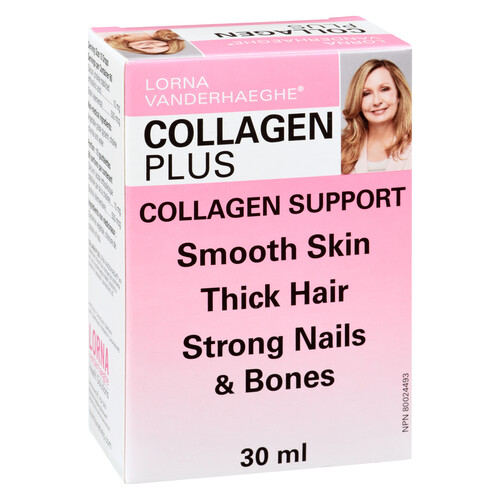 Lorna Vanderhaeghe Collagen Plus Supplement 30 ml
Product Information
Lorna Vanderhaeghe Collagen Plus is a convenient liquid formula that contains choline-stabilized orthosilicic acid and Biotin. Biotin a nutrient important in the maintenance of healthy hair, skin, nails and bones. Choline-stabilized orthosilicic acid provides your body with the building blocks to create collagen. Collagen is a protein that is essential for healthy skin, nails, teeth, hair and bones. Using Collagen Plus with BONE BOOSTER can help enhance bone health and reduce the risk of developing osteoporosis. When combined with GLA Skin Oil for smooth, luminous skin. Features: • Supports smooth, radiant skin • Promotes thick, healthy hair • Supports the maintenance of strong nails and bones • Vegan-friendly, dairy-free, soy-free and gluten-free Suggested Usage: Mix 10 drops in a glass of juice or as directed by a health care practitioner. Take with food. Cautions: Do not use if pregnant or breastfeeding. Do not apply to broken skin or eyes. Keep out of reach of children.
Ingredients
Each 10 Drop Contains: Silicon (choline-stabilized orthosilicic acid) 10 mg Biotin 500 mcg
Other Information
Part of the Well.ca collection
Preparation And Usage
Suggested use: adults mix 10 drops in juice once daily or as directed by a health care practitioner. Take with food.