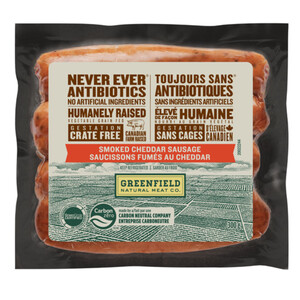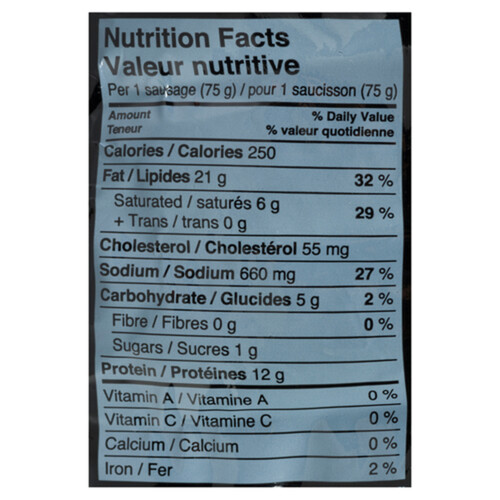 Greenfield Natural Meat Co Smoked Cheddar Sausage 300 g
Product Information
Greenfield Natural Meat Co. brand is on a mission to make the world better by making meat right. That's why our meats come from animals that are raised with care—gestation crate free, and no antibiotics, added hormones*, or artificial ingredients. Our animals are humanely raised on Canadian farms and are vegetable grain fed. Enjoy the succulent flavour of smoked sausage with cheese with Greenfield Natural Meat Co. Smoked Cheddar Sausages. These sausages are made with our quality cuts of pork, slowly smoked for a rich, juicy taste, and velvety cheddar cheese to create the perfect flavour combination. Dedicated to providing wholesome, real food for Canadians for generations to come, Greenfield Natural Meat Co. is part of the first major food company in the world to become carbon neutral. Join them in their commitment to build a more sustainable planet. *Like all pork.
Brand
Greenfield Natural Meat Co.
Cooking & Usage Tips
Preparation Instructions: For Best Tasting Sausages Prepare On The Barbecue. Barbecue: Grill Over Medium Heat For 5-6 Minutes; Tur Ning Frequently. Stovetop: Pan-Fry Over Medium Heat For 12-15 Minutes; Turning Frequently.
Storage Tips
Plastic vacuum sealed
Ingredients
Pork; Water; Cheddar Cheese; Sea Salt; Vinegar; Cultured Celery Extract; Cane Sugar; Spice; Garlic Powder; Smoke. Contains: Milk.
Nutritional Information
per per 1 sausage (75
| Amount                               | % Daily Value |
| --- | --- |
| Calories 250 | |
| Fat 21 g |                      32 % |
|  Saturated 6 g |                      29 % |
|  + Trans 0 g | |
|   Omega-6 0 g | |
|   Omega-3 0 g | |
|  Monounsaturated Fats 0 g | |
| Cholesterol 55 mg | |
| Sodium 660 mg |                      27 % |
| Potassium 0 mg |                      0 % |
| Carbohydrate 5 g |                      2 % |
|  Fibre 0 g |                      0 % |
|  Sugars 1 g | |
|  Sugar Alcohols 0 mg | |
| Protein 12 g | |
| Vitamin A |                      0 % |
| Vitamin C |                      0 % |
| Calcium |                      0 % |
| Iron |                      2 % |