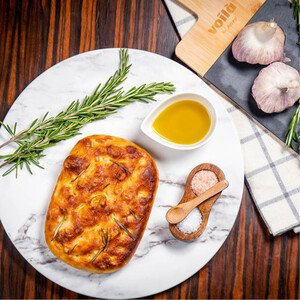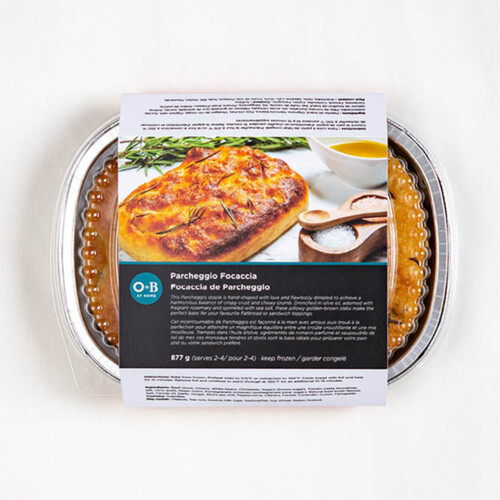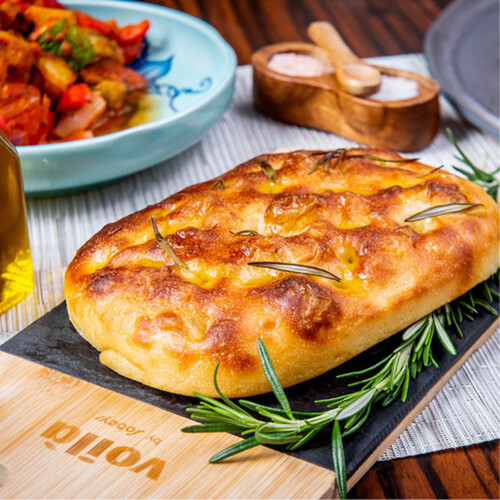 Oliver & Bonacini Parcheggio Rosemary Focaccia
Product Information
True to Italian tradition, this Parcheggio staple is hand-shaped with love and flawlessly dimpled to achieve a harmonious balance of crispy crust and chewy crumb. Chef Andrew Piccinin's cherished recipe calls for several generous drizzles of olive oil, a smattering of fragrant rosemary, and a sprinkle of Maldon sea salt before baking the air-pocketed dough to golden-brown perfection. These pillowy slabs make a soft and sturdy base for your favourite flatbread or sandwich toppings.
Cooking & Usage Tips
Bake from frozen. Preheat oven to 375°F or convection to 350°F. Cover bread with foil and heat for 15 minutes. Remove foil and continue to warm through at 350°F for an additional 10-15 minutes.
Ingredients
Enriched wheat flour, Water, Extra virgin olive oil, Sugar, Salt, Yeast, Sea salt, Rosemary. Contains: Wheat, Gluten. May contain : Peanuts, Tree nuts, Milk, Eggs, Soy, Sulphites.