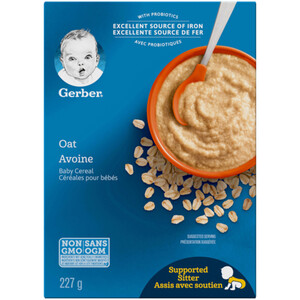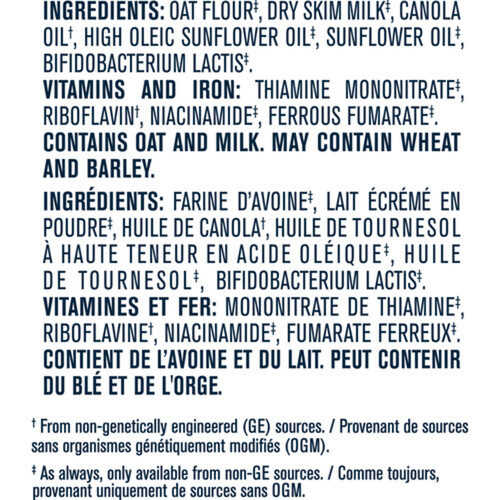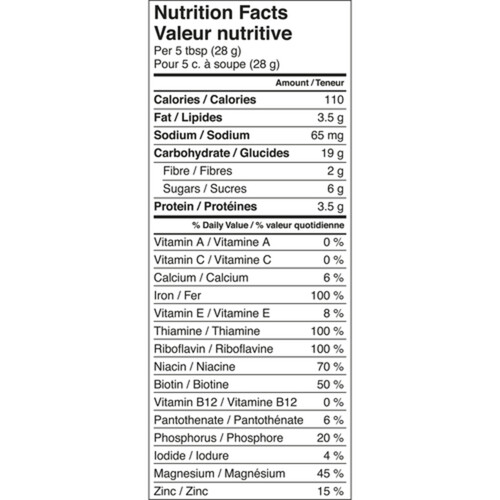 Gerber Stage 1 Baby Cereal Oat 227 g
Product Information
Gerber Stage 1 Oat Baby Cereal is an ideal first choice for your 4-6 Months + baby. Designed for baby's nutritional needs, each serving is full of nutrients, such as iron and calcium, and probiotics to help baby grow. Gerber cereal is made from a single grain, ensuring it is creamy, smooth, and easy-to-digest. Made with no added sugar or salt, and with no preservatives, artificial colours, or flavours. Just add water!
Ingredients
Oat Flour, Dry Skim Milk, Canola Oil, High Oleic Sunflower Oil, Sunflower Oil, Bifidobacterium Lactis. Vitamins and Iron: Thiamine Mononitrate, Riboflavin, Niacinamide, Ferrous Fumarate. From Non-Genetically Engineered (GE) Sources. Contains: oat and milk. May contain: wheat and barley.
Recycling Information
Recyclable box.
Preparation And Usage
Add Water This box of cereal already contains stage appropriate specially adapted milk plus both macronutrients (protein, fat and carbohydrates) and micronutrients which are essential for your baby's growth. All you need to do is add water. Preparation Instructions 1 Measure 5 tbsp of cereal into a bowl. 2 Stir in slightly more than 1/3 cup (90 ml) of previously boiled, lukewarm water to create a smooth consistency. After feeding, discard unfinished cereal remaining in the bowl.
Nutritional Information
per per 5 tbsp (28 g)
| Amount                               | % Daily Value |
| --- | --- |
| Calories 120 | |
| Fat 3 g |                      5 % |
|  Saturated 0 g |                      0 % |
|  + Trans 0 g | |
|   Omega-6 0 g | |
|   Omega-3 0 g | |
|  Monounsaturated Fats 0 g | |
| Cholesterol 0 mg | |
| Sodium 35 mg |                      1 % |
| Potassium 0 mg |                      0 % |
| Carbohydrate 20 g |                      7 % |
|  Fibre 0 g |                      0 % |
|  Sugars 10 g | |
|  Sugar Alcohols 0 mg | |
| Protein 4 g | |
| Vitamin A |                      0 % |
| Vitamin C |                      0 % |
| Calcium |                      15 % |
| Iron |                      100 % |