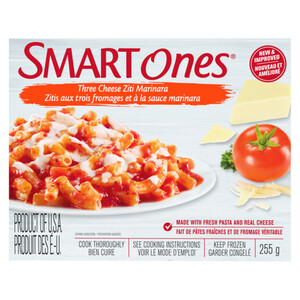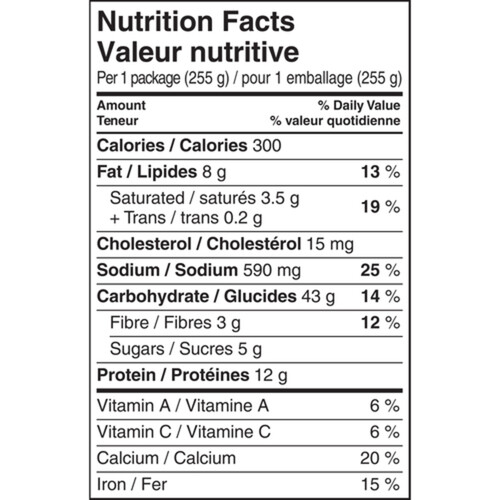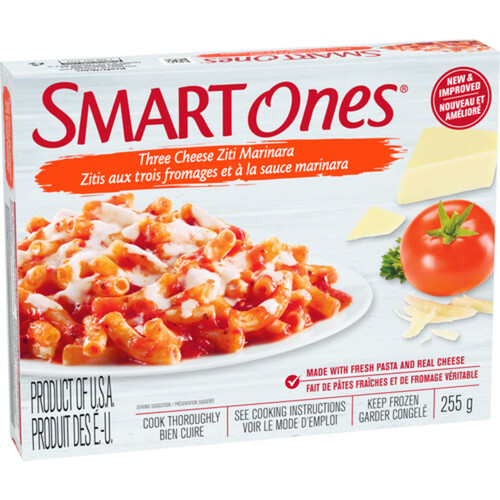 Smart Ones Three Cheese Ziti Marinara Frozen Meal 255 g
Product Information
Smart Ones Three Cheese Ziti Marinara delivers delicious Italian inspired flavors to satisfy your cravings in an easy to make microwave meal that's ready in minutes. Made with fresh pasta and real cheese, this dish features ziti in marinara sauce topped with part skim mozzarella, Monterey Jack and Parmesan cheese. As an added bonus, this tasty and easy Italian style dinner has 12 grams of protein per serving. Each Smart Ones Three Cheese Ziti Marinara frozen entree comes packaged in a microwaveable tray for easy meal preparation.
Cooking & Usage Tips
Microwave oven only: The following cook preparation was developed using an 1100 watt microwave oven set on high. 1 Remove tray from outer carton; pull back corner of film to vent. 2 Cook on high for 3 minutes 15 seconds. 3 Pull back film and stir. Replace film. 4 Cook on high for 1 minute. 5 Let stand in microwave 1-2 minutes. 6 When removing from microwave, hold onto the tray's side handles. Remove film. Stir and enjoy. Check that product is cooked thoroughly. Internal temperature needs to reach 74°C (165°F) as measured by a food thermometer. For food safety and best quality, follow these cooking instructions: - Keep frozen until ready to use. - Cook thoroughly before eating. - Adjustment to cooking time may be required due to variations in all microwave ovens. - Use caution as product and packaging will be hot. - Do not reuse tray. - Do not prepare in conventional or toaster oven.
Ingredients
Organic Pear Puree, Organic Butternut Squash Puree, Organic Kale Puree, Organic Acerola Cherry, Organic Concentrated Lemon Juice.
Nutritional Information
per (255 g)
| Amount                               | % Daily Value |
| --- | --- |
| Calories 280 | |
| Fat 8 g |                      12 % |
|  Saturated 4 g |                      19 % |
|  + Trans 0 g | |
|   Omega-6 0 g | |
|   Omega-3 0 g | |
|  Monounsaturated Fats 0 g | |
| Cholesterol 15 mg | |
| Sodium 570 mg |                      24 % |
| Potassium 0 mg |                      0 % |
| Carbohydrate 41 g |                      14 % |
|  Fibre 7 g |                      28 % |
|  Sugars 5 g | |
|  Sugar Alcohols 0 mg | |
| Protein 12 g | |
| Vitamin A |                      6 % |
| Vitamin C |                      2 % |
| Calcium |                      20 % |
| Iron |                      15 % |