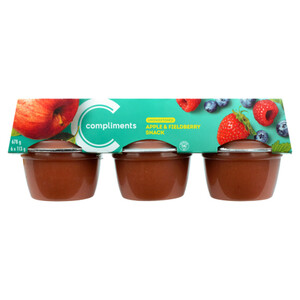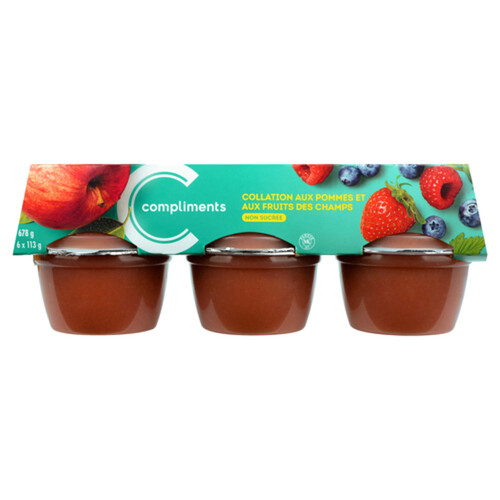 Compliments Balance Snack Cups Apple Fieldberry Unsweetened 6 x 113 g
6 x 113g
($0.37 per 100g)
Product Information
Good to know! Emphasizing vegetables and fruit is part of healthy eating. Compliments Balance Unsweetened Apple Fieldberry Snack has 40% less sugar than our regular Compliments Apple Snack. No artificial flavours or colours.
Ingredients
Ingredients: Apples, water, blueberries, raspberries, concentrated strawberry purée, natural flavour, concentrated carrot juice, concentrated red cabbage juice, ascorbic acid.
Preparation And Usage
Serving Chill before serving. Natural separation may occur. Stir well before enjoying.
Nutritional Information
per 1 snack cup (113 g)
| Amount                               | % Daily Value |
| --- | --- |
| Calories 50 | |
| Fat 0 g |                      1 % |
|  Saturated 0 g |                      0 % |
|  + Trans 0 g | |
|   Omega-6 0 g | |
|   Omega-3 0 g | |
|  Monounsaturated Fats 0 g | |
| Cholesterol 0 mg | |
| Sodium 1 mg |                      1 % |
| Potassium 100 mg |                      3 % |
| Carbohydrate 14 g |                      5 % |
|  Fibre 2 g |                      8 % |
|  Sugars 11 g | |
|  Sugar Alcohols 0 mg | |
| Protein 0 g | |
| Vitamin A |                      0 % |
| Vitamin C |                      30 % |
| Calcium |                      1 % |
| Iron |                      1 % |