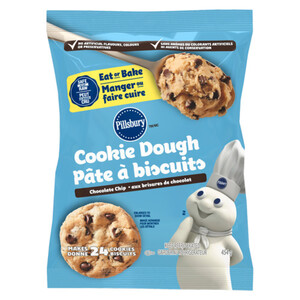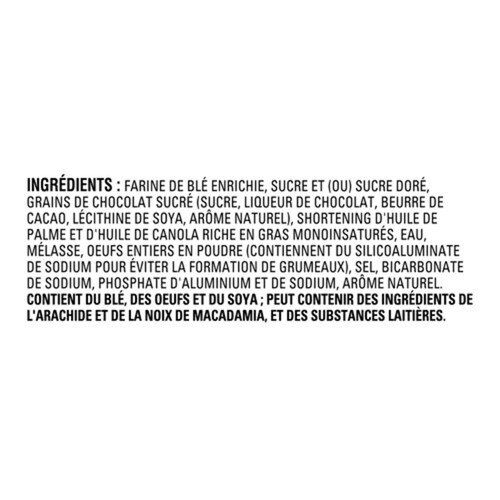 Pillsbury Chocolate Chip Ready To Bake Cookies 454 g
Product Information
Home-baked goodness never came easier! Just place cookie dough rounds on a cookie sheet and bake. Indulge your sweet tooth with this treat! • Pillsbury cookie dough is now safe to eat raw!
Cooking & Usage Tips
Oven cook - From Chilled JUST PLACE & BAKE!™ BAKING DIRECTIONS: 1. HEAT oven to 350°F (180°C). 2. PLACE cookie dough rounds about 2 inches (5 cm) apart on ungreased cookie sheet. 3. BAKE for 9 TO 12 minutes. COOL 2 minutes; Remove from cookie sheet. TIP: PRODUCT CAN BE STORED IN FREEZER UP TO 2 MONTHS IF FROZEN BEFORE "USE BY"DATE MARKED ON PACKAGE. TO BAKE FROZEN PRODUCT: Follow baking instructions above and bake at 350­°F (180°C) for 13 to 16 minutes (no need to thaw cookies first). DO NOT EAT RAW COOKIE DOUGH.
Nutritional Information
per 2 cookies (38
| Amount                               | % Daily Value |
| --- | --- |
| Calories 170 | |
| Fat 8 g |                      12 % |
|  Saturated 3 g |                      16 % |
|  + Trans 0 g | |
|   Omega-6 0 g | |
|   Omega-3 0 g | |
|  Monounsaturated Fats 0 g | |
| Cholesterol 5 mg | |
| Sodium 135 mg |                      6 % |
| Potassium 0 mg |                      0 % |
| Carbohydrate 24 g |                      8 % |
|  Fibre 1 g |                      2 % |
|  Sugars 15 g | |
|  Sugar Alcohols 0 mg | |
| Protein 1 g | |
| Vitamin A |                      0 % |
| Vitamin C |                      0 % |
| Calcium |                      0 % |
| Iron |                      10 % |