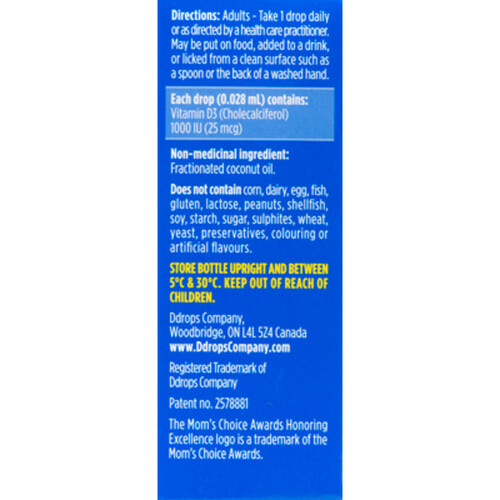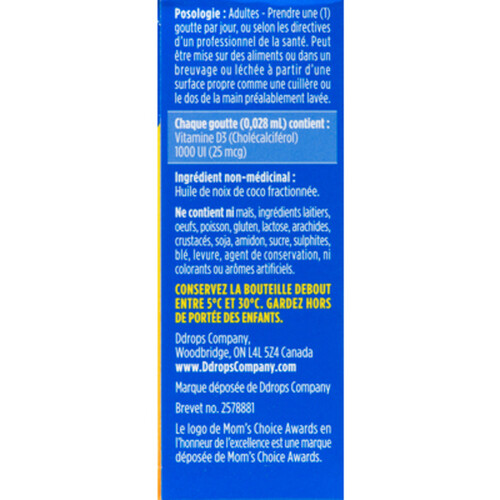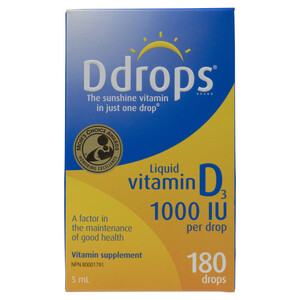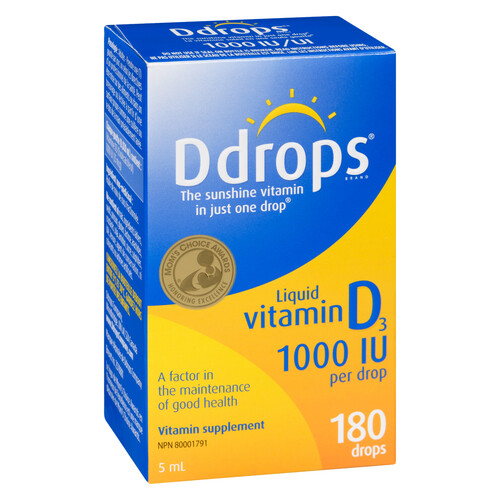 D Drops Liquid Vitamin D 1000 IU 180 Drops
Product Information
Vitamin D has long been known for its value in bone and muscle strength development, and for helping to prevent bone fractures. Recent studies show that the greatest benefit of vitamin D is to decrease the future risk of chronic illnesses, including cardiovascular disease, common cancers, infectious diseases and autoimmune diseases. Ddrops is a liquid vitamin D supplement containing 1000 IU of vitamin D3 in just one drop. It offers an easy and effective alternative to swallowing tablets or capsules. It is designed to be licked off any clean surface such as the back of a washed hand or a spoon. It can also be dropped onto food or into liquids. Ddrops contains no preservative, no artificial flavour and no added colour. Ddrops is wheat-free gluten-free, soy-free, corn-free, sugar-free, milk-free and peanut-free. Ddrops has been awarded Gold by Moms' Choice Awards.
Ingredients
Medicinal vitamin D3 (colecalciferol) 1000 IU (25 mcg) Non-medicinal Thin vegetable oil (purified components of coconut and palm oil).
Storage
Store bottle upright and between 5°C & 30°C
Other Information
Part of the Well.ca collection
Preparation And Usage
Directions: Adults - Take 1 drop daily or as directed by a health care practitioner. May be put on food, added to a drink, or licked from a clean surface such as a spoon or the back of a washed hand.