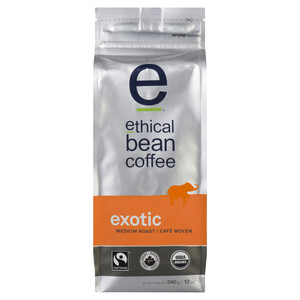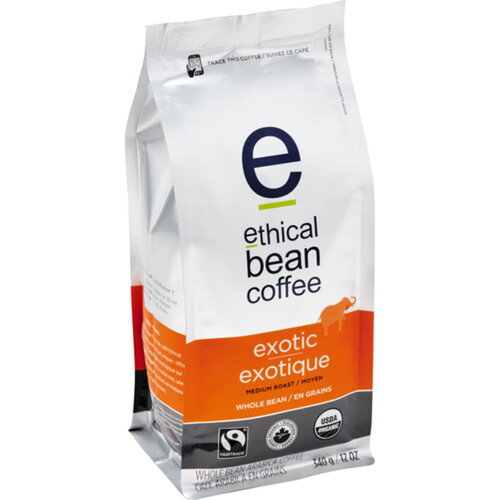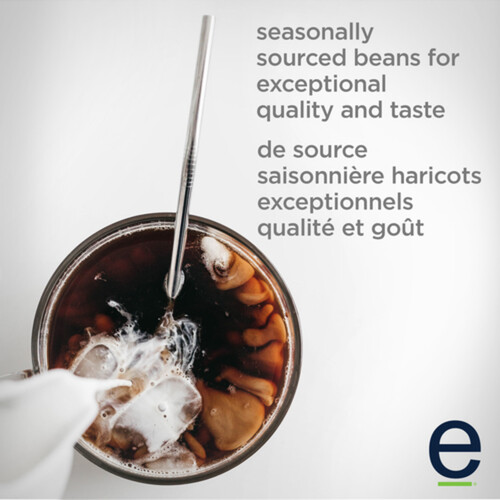 Ethical Bean Exotic Medium Roast Whole Bean Coffee 340 g
Product Information
Ethical Bean Exotic Whole Bean Medium Roast Coffee delivers a fruity and savoury cup of coffee for those who want to get off to a great start. Our Exotic medium roast organic coffee beans come directly from farmers in South and Central America, where we source only premium, 100 % Arabica coffee. Flavour notes of fruit and floral aromatics are developed after being roasted and tested by our passionate team of coffee experts. Our medium-bodied roast offers a complex cup of aromas paired with fruity, floral whole beans for a fresh cup of coffee. Every delicious cup of Ethical Bean coffee has been crafted with one simple objective in mind: to make the best fairtrade organic coffee on the planet. Period. Proudly roasted in Canada and 100% fairtrade certified & organic, each bag has a unique QR code on the back, so you can trace the journey of your beans from crop to cup. Taste it, feel it.
Product Features
One 340 g bag of Ethical Bean Exotic Whole Bean Medium Roast Coffee
Ingredients
Ingredient: 100 % Pure Ground Coffee.
Preparation And Usage
The perfect brewing ratio? Use 2 tablespoons or 30 ml of ground coffee for every 6 ounces, or 177 ml of water.
Nutritional Information
per (100 g)
| Amount                               | % Daily Value |
| --- | --- |
| Calories 0 | |
| Fat 0 g |                      0 % |
|  Saturated 0 g |                      0 % |
|  + Trans 0 g | |
|   Omega-6 0 g | |
|   Omega-3 0 g | |
|  Monounsaturated Fats 0 g | |
| Cholesterol 0 mg | |
| Sodium 0 mg |                      0 % |
| Potassium 0 mg |                      0 % |
| Carbohydrate 0 g |                      0 % |
|  Fibre 0 g |                      0 % |
|  Sugars 0 g | |
|  Sugar Alcohols 0 mg | |
| Protein 0 g | |
| Vitamin A |                      0 % |
| Vitamin C |                      0 % |
| Calcium |                      0 % |
| Iron |                      0 % |