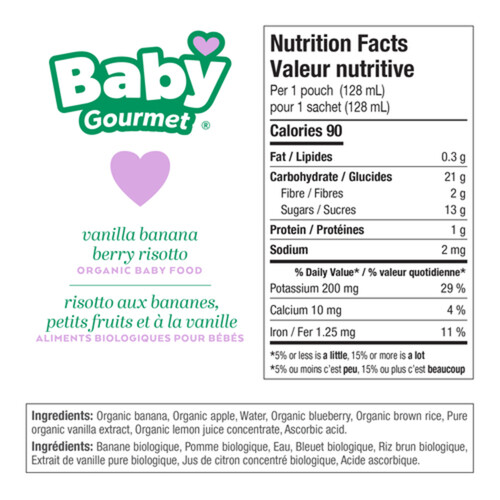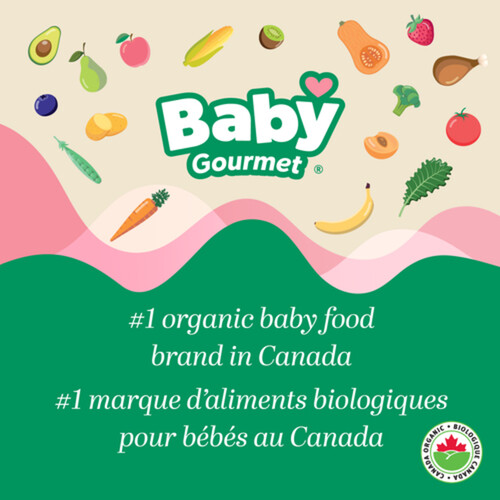 Baby Gourmet Organic Vanilla Banana Berry Risotto Baby Food 128 mL
Product Information
7 Months + Baby Gourmet took brown rice, rich banana and bright blueberries and turned a dish usually reserved for fancy restaurants into a nutritious meal for babies.
Ingredients
Ingredients: Organic Banana, Organic Apple, Water, Organic Blueberry, Organic Brown Rice, Organic Vanilla, Organic Lemon Juice Concentrate, Ascorbic Acid.
Storage
Refrigerate after opening. Consume within 24 hours.
Preparation And Usage
SERVING INSTRUCTIONS: Serve warm or cold. Always check food temperature before serving.
Nutritional Information
per per 1 pouch (128
| Amount                               | % Daily Value |
| --- | --- |
| Calories 90 | |
| Fat 0 g |                      1 % |
|  Saturated 0 g |                      0 % |
|  + Trans 0 g | |
|   Omega-6 0 g | |
|   Omega-3 0 g | |
|  Monounsaturated Fats 0 g | |
| Cholesterol 0 mg | |
| Sodium 2 mg |                      1 % |
| Potassium 200 mg |                      29 % |
| Carbohydrate 21 g |                      7 % |
|  Fibre 2 g |                      8 % |
|  Sugars 13 g | |
|  Sugar Alcohols 0 mg | |
| Protein 1 g | |
| Vitamin A |                      0 % |
| Vitamin C |                      0 % |
| Calcium |                      4 % |
| Iron |                      11 % |