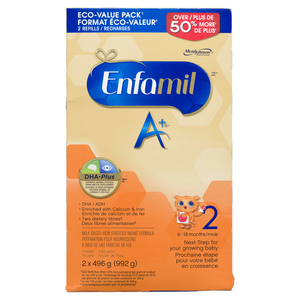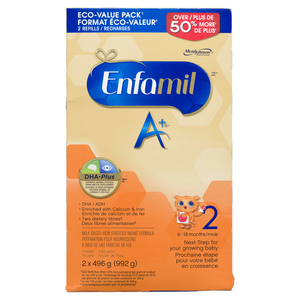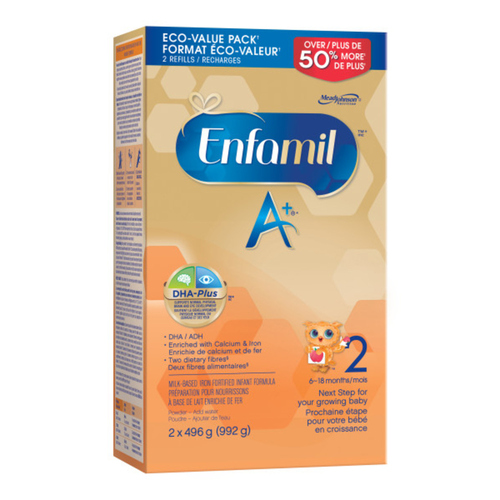 Enfamil A+ Step 2 Infant Formula Powder Refill 992 g
Product Information
At 6 months, a lot has changed. What about your baby's formula? At 6 months, your increasingly active baby has new energy, new ability and a newly emerging personality. Nourish her growing brain and body with the next stage of Enfamil® nutrition—Enfamil A+ 2. Canada's first and only formula tub and refill system. Just mix the right amounts of water and powder as indicated on the label. Enfamil A+ 2 is formulated to support growing brain and body.
Ingredients
• Our next step for your growing baby between 6-18 months. • Enfamil A+ 2 has age-appropriate levels of calcium, iron and protein • DHA, a type of Omega-3 fat and an important building block of the brain • Contains a blend of 2 dietary fibres, GOS and polydextrose • Our refill pouches make more formula for less per gram vs. our tub and have less waste - The refill boxes are 100% recyclable and have 40% less packaging per gram of product vs. our 550 g tub.
Storage
Storage/Handling: Store powder at room temperature; avoid extreme temperatures. Refill pouches can be used with reusable Enfamil A+ 2 tubs, sold separately. After opening, keep pouch and tub lid tightly closed, store in a dry area, and use contents within 1 month. Use tub with Enfamil A+ 2 infant formula only. Keep powder fresh and prevent bacterial growth by ensuring tub is clean and completely dry. Completely empty tub and wipe with a clean, dry cloth before reusing. Each pouch has a new batch code and expiration date sticker that must be retained until the contents of the pouch have been consumed. Use by expiration date on bottom of carton.