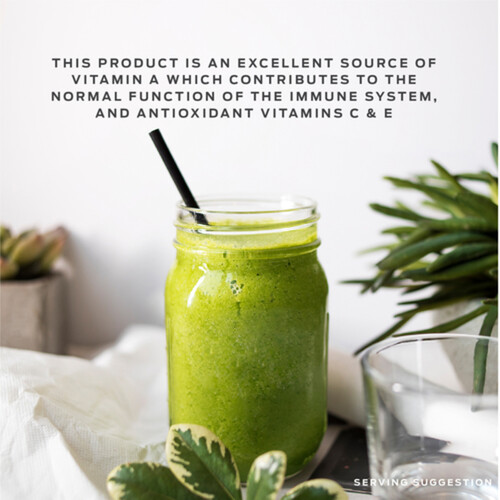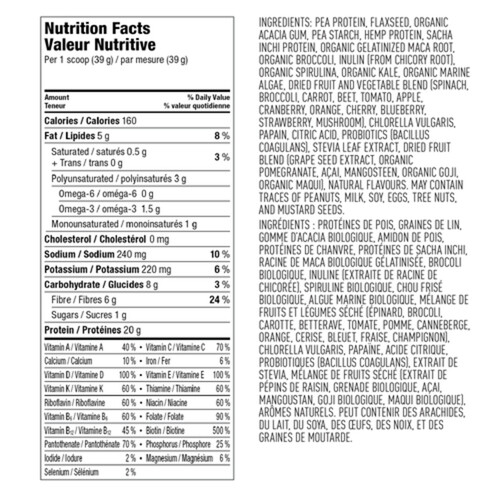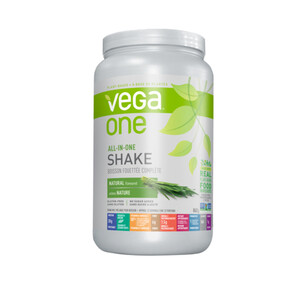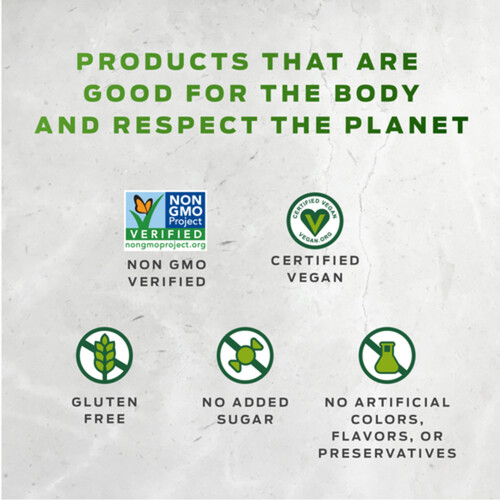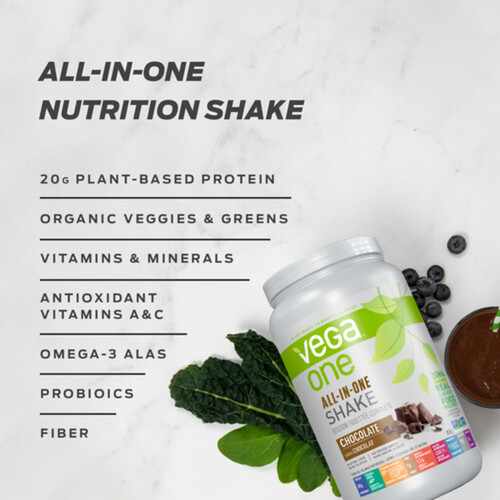 Vega One All-In-One Protein Powder Natural 22 Servings
Product Information
Made from carefully selected, premium, plant-based food ingredients you'd choose yourself if you had the time, Vega One helps give you the nutritional confidence to live your best life—no matter how much you pack into it. Enjoy 20 grams protein, veggies and greens, at least 50% DV of 11 vitamins and minerals, probiotics (1 billion CFUs bacillus coagulans), 1.5 grams Omega-3 polyunsaturates, 6 grams fibre, and dietary antioxidants vitamins C and E in every scoop. Vega One is gluten-free, Non-GMO Project verified, vegan certified, and has no artificial flavours, colours, or sweeteners. You can shake, blend, or bake Vega One in French Vanilla, Vanilla Chai, Chocolate, Natural, Berry, Mocha, and Coconut Almond flavours.
Product Features
All-in-One: Start your day with multisource protein, vitamins, minerals, probiotics, antioxidants, and omega-3s, all sourced from the power of plants. Plant based protein: 20 g of protein from a complete multisource blend of organic pea protein, organic sunflower seed protein, and organic pumpkin seed protein. Vitamins & minerals: Get 50 % DV of 11 vitamins and minerals in a serving, all from real, plant-based food ingredients in each scoop of Vega One. Probiotics and more: 1 billion CFUs bacillus coagulans, 1.5 grams Omega-3 ALA and 6 grams fiber. Supercharged certifications: Vega One is non-GMO project verified, Vegan certified, gluten-free, and without dairy or soy ingredients. Number 1 protein powder brand: Based on CA sales. Contents may settle: Contents may settle during shipping. Don't worry, that's normal. You're still getting all the servings listed on your product.
Cooking & Usage Tips
Mix One level scoop in 1.5 cups (12 fl.oz.) of ice-cold water or non-dairy beverage. Mix One level scoop into your favourite smoothie recipe. Swap Vega One for 1/8 to 1/4 of the flour in sweet baking recipes. Check out myVega.ca/recipes for some blendspiration.
Ingredients
PEA PROTEIN, FLAXSEED, ORGANIC ACACIA GUM, PEA STARCH, HEMP PROTEIN, SACHA INCHI PROTEIN, ORGANIC GELATINIZED MACA ROOT, ORGANIC BROCCOLI, INULIN (FROM CHICORY ROOT), ORGANIC SPIRULINA, NATURAL FLAVOR, ORGANIC KALE, ORGANIC MARINE ALGAE, DRIED FRUIT AND VEGETABLE BLEND (SPINACH, BROCCOLI, CARROT, BEET, TOMATO, APPLE, CRANBERRY, ORANGE, CHERRY, BLUEBERRY, STRAWBERRY, MUSHROOM), CHLORELLA VULGARIS, PAPAIN, CITRIC ACID, PROBIOTICS (BACILLUS COAGULANS), STEVIA LEAF EXTRACT, DRIED ANTIOXIDANT FRUIT BLEND (GRAPE SEED EXTRACT, ORGANIC POMEGRANATE, ACAI, MANGOSTEEN, ORGANIC GOJI, ORGANIC MAQUI)
Nutritional Information
per 1 scoop (39 g)
| Amount                               | % Daily Value |
| --- | --- |
| Calories 150 | |
| Fat 6 g |                      9 % |
|  Saturated 0 g |                      3 % |
|  + Trans 0 g | |
|   Omega-6 0 g | |
|   Omega-3 2 g | |
|  Monounsaturated Fats 1 g | |
| Cholesterol 0 mg | |
| Sodium 20 mg |                      1 % |
| Potassium 220 mg |                      6 % |
| Carbohydrate 8 g |                      3 % |
|  Fibre 6 g |                      24 % |
|  Sugars 1 g | |
|  Sugar Alcohols 0 mg | |
| Protein 20 g | |
| Vitamin A |                      45 % |
| Vitamin C |                      80 % |
| Calcium |                      20 % |
| Iron |                      30 % |