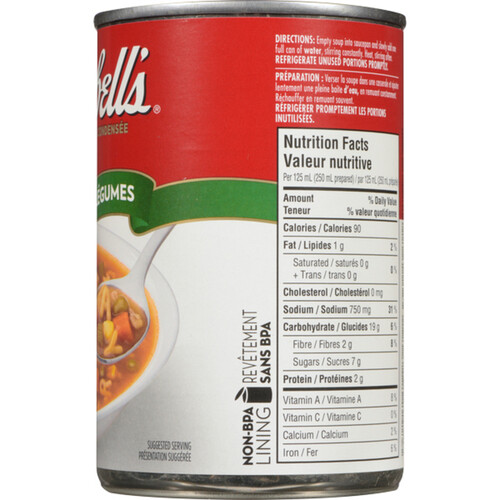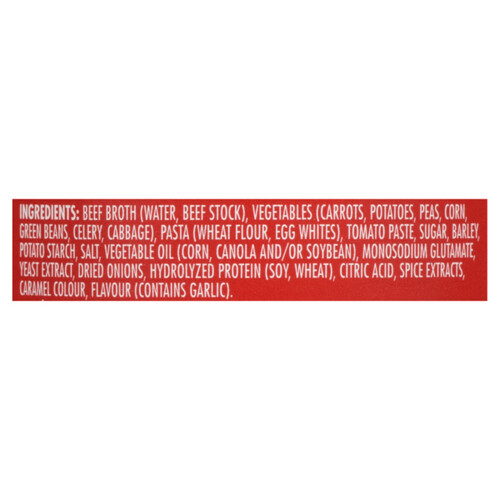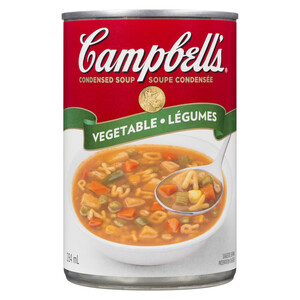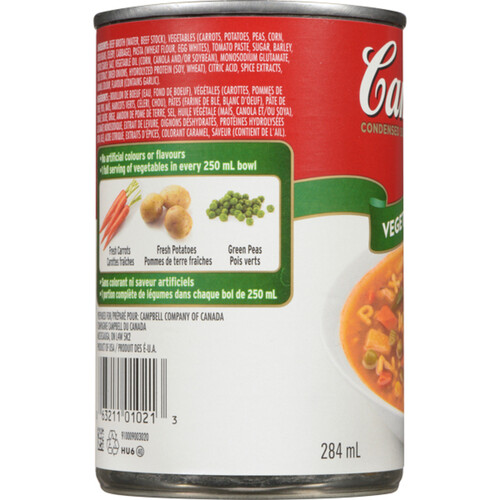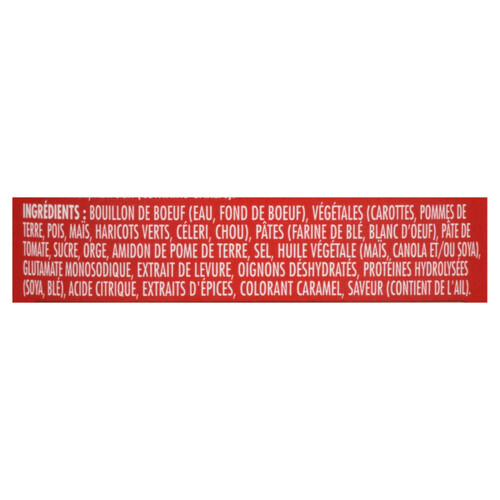 Campbell's Alphabet Vegetable Condensed Soup 284 mL
Product Information
Campbell's® Vegetable soup makes a satisfying and delicious lunchtime pairing with a sandwich or salad. It also provides 1 full serving of vegetables per 250 mL bowl without any artificial colours or flavours.
Cooking & Usage Tips
Directions: empty soup into saucepan and slowly add one full can of water, stirring constantly. Heat, stirring often.
Ingredients
Ingredients: beef broth (water, beef stock), carrots, potatoes, tomato paste, peas, pasta (wheat flour, egg white), sugar, corn, potato starch, green beans, barley, salt, celery, canola or soybean oil, monosodium glutamate, cabbage, dehydrated onions, yeast extract, hydrolyzed protein (soy, corn, wheat), flavour, spices, caramel.
Nutritional Information
per 125 ml (250 ml
| Amount                               | % Daily Value |
| --- | --- |
| Calories 90 | |
| Fat 1 g |                      2 % |
|  Saturated 0 g |                      0 % |
|  + Trans 0 g | |
|   Omega-6 0 g | |
|   Omega-3 0 g | |
|  Monounsaturated Fats 0 g | |
| Cholesterol 0 mg | |
| Sodium 750 mg |                      31 % |
| Potassium 0 mg |                      0 % |
| Carbohydrate 19 g |                      6 % |
|  Fibre 3 g |                      12 % |
|  Sugars 7 g | |
|  Sugar Alcohols 0 mg | |
| Protein 2 g | |
| Vitamin A |                      8 % |
| Vitamin C |                      0 % |
| Calcium |                      2 % |
| Iron |                      6 % |