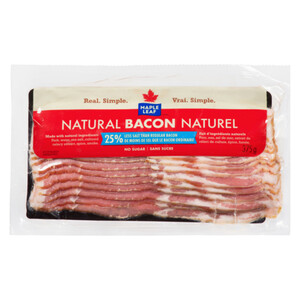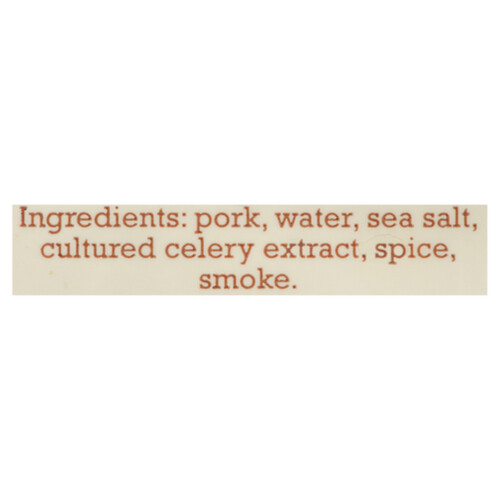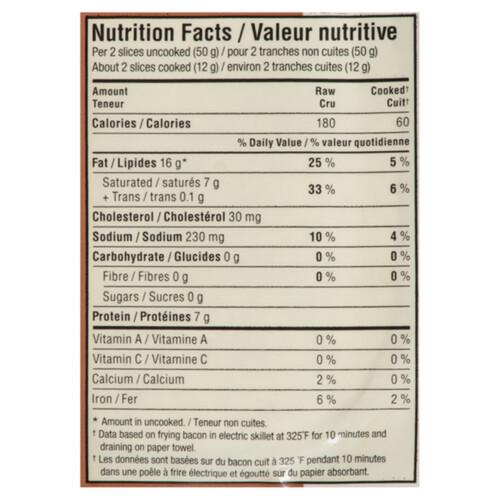 Maple Leaf Natural Less Salt Bacon 375 g
Product Information
Enjoy delicious natural sugar free bacon with Maple Leaf Natural Less Salt Bacon. Made with natural ingredients and crafted from our quality cuts of pork, these bacon slices are perfectly seasoned with natural ingredients. Containing 25 percent less salt than regular bacon, Maple Leaf Natural Less Salt Bacon is a tasty addition to breakfast dishes, sandwiches, and salads. Made for families, the Maple Leaf brand offers premium meats using only natural ingredients with no artificial preservatives, flavours, colours, or sweeteners. Dedicated to providing wholesome, real food for Canadians for generations to come, Maple Leaf is the first major food company in the world to become carbon neutral. Join them in their commitment to build a more sustainable planet.
Cooking & Usage Tips
Cooking instructions: Before eating, heat to an internal temperature of 160°F (71°C). Pan fry: cook over medium heat, turning often, until bacon reaches desired degree of crispness. Bake: place bacon in shallow pan in 375°F (190°C) oven until lightly brow, turning once.
Ingredients
Ingredients: Pork, water, sea salt, cultured celery extract, spice, smoke.
Nutritional Information
per 2 slices uncooked (5
| Amount                               | % Daily Value |
| --- | --- |
| Calories 200 | |
| Fat 19 g |                      29 % |
|  Saturated 7 g |                      36 % |
|  + Trans 0 g | |
|   Omega-6 0 g | |
|   Omega-3 0 g | |
|  Monounsaturated Fats 0 g | |
| Cholesterol 30 mg | |
| Sodium 150 mg |                      6 % |
| Potassium 0 mg |                      0 % |
| Carbohydrate 1 g |                      1 % |
|  Fibre 0 g |                      0 % |
|  Sugars 0 g | |
|  Sugar Alcohols 0 mg | |
| Protein 5 g | |
| Vitamin A |                      0 % |
| Vitamin C |                      0 % |
| Calcium |                      0 % |
| Iron |                      2 % |