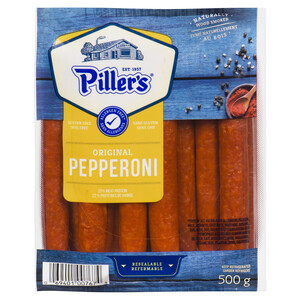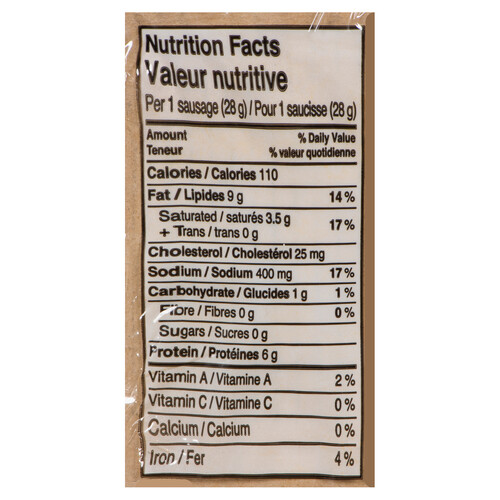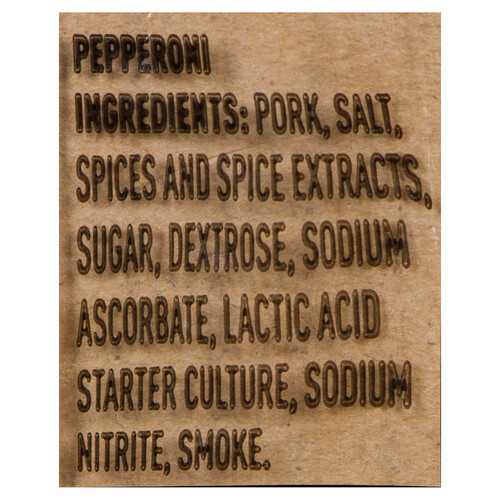 Piller's Pepperoni Original 500 g
Product Information
The original snack. Our pepperoni is a classic, made using an authentic European recipe and are semi-dry cured and naturally wood smoked with a soft bite.
Product Features
Free of all major food allergens, gluten free, msg free, high in protein
Ingredients
Pork, salt, spices and spice extracts, sugar, dextrose, sodium ascorbate, lactic acid starter culture, sodium nitrite, smoke.
Nutritional Information
per (28 g)
| Amount                               | % Daily Value |
| --- | --- |
| Calories 110 | |
| Fat 9 g |                      14 % |
|  Saturated 0 g |                      0 % |
|  + Trans 0 g | |
|   Omega-6 0 g | |
|   Omega-3 0 g | |
|  Monounsaturated Fats 0 g | |
| Cholesterol 0 mg | |
| Sodium 0 mg |                      0 % |
| Potassium 0 mg |                      0 % |
| Carbohydrate 1 g |                      1 % |
|  Fibre 0 g |                      0 % |
|  Sugars 0 g | |
|  Sugar Alcohols 0 mg | |
| Protein 6 g | |
| Vitamin A |                      0 % |
| Vitamin C |                      0 % |
| Calcium |                      0 % |
| Iron |                      0 % |