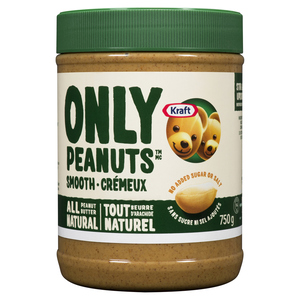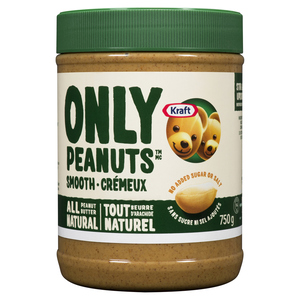 Kraft Only Peanuts All Natural Smooth Peanut Butter 750 g
Product Information
Kraft Only Peanuts Smooth Peanut Butter is a family favourite and a Canadian classic now made with only one ingredient: 100% roasted all natural peanuts. With its signature delicious, nutty taste, Kraft Only Peanuts Smooth brings out the best flavor.
Ingredients
Ingredients: 100% select roasted peanuts. (i012c)
Storage
Refrigerate after opening for best quality.
Nutritional Information
per 1 Tbsp. (15 g)
| Amount                               | % Daily Value |
| --- | --- |
| Calories 90 | |
| Fat 7 g |                      11 % |
|  Saturated 1 g |                      5 % |
|  + Trans 0 g | |
|   Omega-6 0 g | |
|   Omega-3 0 g | |
|  Monounsaturated Fats 0 g | |
| Cholesterol 0 mg | |
| Sodium 0 mg |                      0 % |
| Potassium 0 mg |                      0 % |
| Carbohydrate 3 g |                      1 % |
|  Fibre 1 g |                      4 % |
|  Sugars 1 g | |
|  Sugar Alcohols 0 mg | |
| Protein 4 g | |
| Vitamin A |                      0 % |
| Vitamin C |                      0 % |
| Calcium |                      0 % |
| Iron |                      2 % |