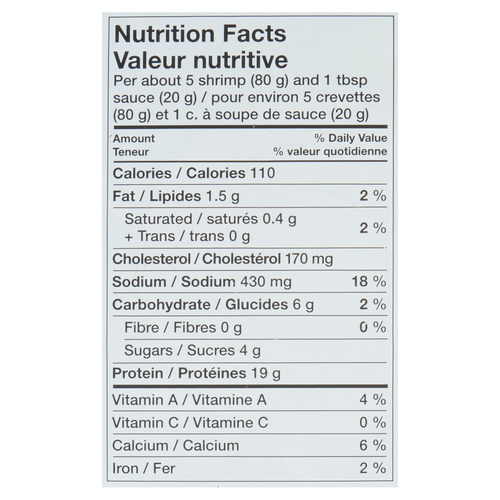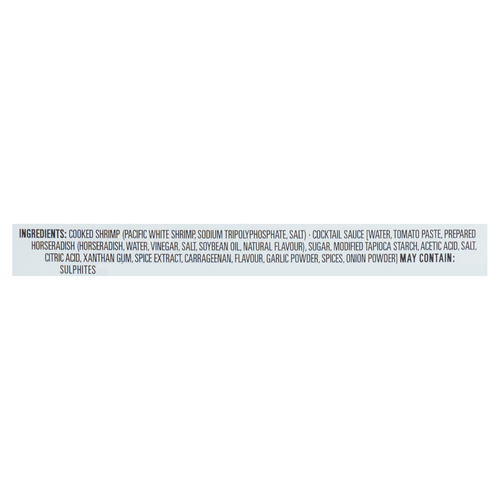 Compliments White Shrimp Dome Ring With Sauce 312 g
Product Information
Compliments White Shrimp Ring with shrimp cocktail sauce. Peeled, deveined and with tails intact, Compliments Cooked Pacific White Shrimp with Cocktail Sauce are ready to use in salads, sandwiches and pasta dishes. Best Aquaculture Practices certified. Shrimp is a good source of protein and an excellent source of omega-3 fatty acids.
Cooking & Usage Tips
How to prepare 1 Defrost thaw in the refrigerator overnight, leaving packaging intact. Do not defrost in microwave oven. For a faster thaw remove dome lid and rinse shrimp under cold running water for about 5 minutes. Drain well. Place cocktail sauce pot in a shallow bowl of cold water for about 30-45 minutes, stirring occasionally. 2 Prep once shrimp has defrosted, remove dome and plastic wrap. Drain any excess water from shrimp and pat dry. 3 Serve with the sauce.
Nutritional Information
per 7 shrimp (100 g)
| Amount                               | % Daily Value |
| --- | --- |
| Calories 150 | |
| Fat 2 g |                      3 % |
|  Saturated 0.5 g |                      3 % |
|  + Trans 0 g | |
|   Omega-6 0 g | |
|   Omega-3 0 g | |
|  Monounsaturated Fats 0 g | |
| Cholesterol 210 mg | |
| Sodium 550 mg |                      24 % |
| Potassium 250 mg |                      5 % |
| Carbohydrate 10 g |                      0 % |
|  Fibre 1 g |                      4 % |
|  Sugars 7 g | |
|  Sugar Alcohols 0 mg | |
| Protein 23 g | |
| Vitamin A |                      0 % |
| Vitamin C |                      0 % |
| Calcium |                      8 % |
| Iron |                      3 % |