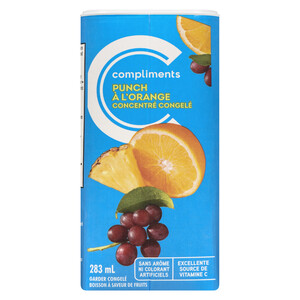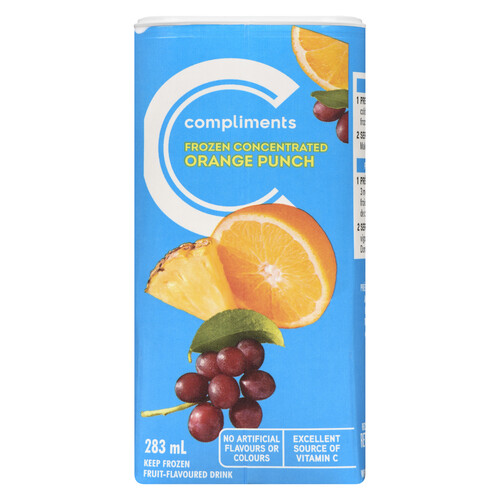 Compliments Frozen Juice Orange Punch 283 ml
Product Information
No artificial flavours or colours.
Ingredients
Ingredients: Sugars (sugar, concentrated orange juice, concentrated pineapple juice, concentrated grape juice), Filtered water, Natural flavour, Citric acid, Vitamin C, Beta-carotene, Paprika extract, Quillaia extract
Storage
Keep frozen Storage Keep frozen until ready to use. Refrigerate prepared beverage.
Preparation And Usage
Serving 1 Prep add 3 equal parts cold water to 1 part frozen concentrate. 2 Serve stir vigorously. Makes 1.13 L.
Nutritional Information
per 4 tbsp (63 ml)
| Amount                               | % Daily Value |
| --- | --- |
| Calories 130 | |
| Fat 0 g |                      0 % |
|  Saturated 0 g |                      0 % |
|  + Trans 0 g | |
|   Omega-6 0 g | |
|   Omega-3 0 g | |
|  Monounsaturated Fats 0 g | |
| Cholesterol 0 mg | |
| Sodium 0 mg |                      0 % |
| Potassium 50 mg |                      1 % |
| Carbohydrate 33 g |                      11 % |
|  Fibre 0 g |                      0 % |
|  Sugars 28 g | |
|  Sugar Alcohols 0 mg | |
| Protein 0 g | |
| Vitamin A |                      0 % |
| Vitamin C |                      100 % |
| Calcium |                      1 % |
| Iron |                      0 % |