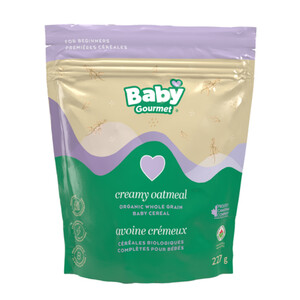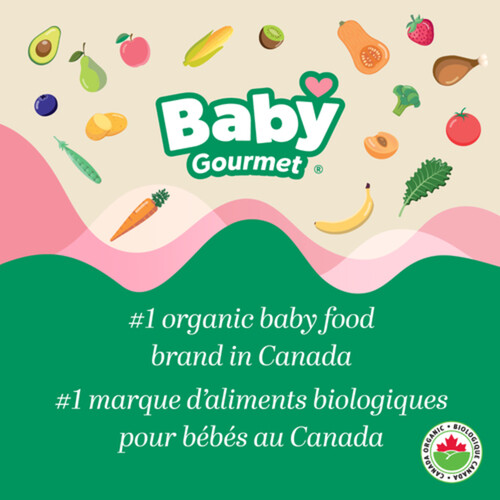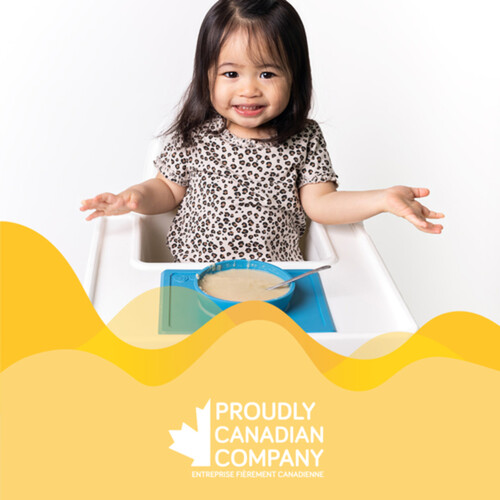 Baby Gourmet Organic Baby Cereal Tasty Smooth Oatmeal 227 g
Product Information
For Beginners. Bring the goodness of organic, wholegrain oats to your baby's diet for added nutrition and texture.
Ingredients
Ingredients: Organic Oat Flour, Electrolytic Iron, Niacinamide, Riboflavin, Thiamine Mononitrate, Organic Sunflower Lecithin. Allergens: Gluten.
Storage
Reseal, store in cool, dry place. Use within one month of opening. Discard any unused cereal that you have prepared.
Preparation And Usage
Serving Instructions: Mix 3 tablespoons of cereal with equal parts water. For added nutrition substitute water with breast milk or formula. Add more cereal or liquid, depending on baby's individual needs until desired consistency is reached. Serve immediately. If warming, please ensure food has cooled sufficiently. Always text the temperature before serving to your baby.
Nutritional Information
per per 8 tbsp (30 g)
| Amount                               | % Daily Value |
| --- | --- |
| Calories 110 | |
| Fat 2 g |                      3 % |
|  Saturated 0 g |                      0 % |
|  + Trans 0 g | |
|   Omega-6 0 g | |
|   Omega-3 0 g | |
|  Monounsaturated Fats 0 g | |
| Cholesterol 0 mg | |
| Sodium 2 mg |                      1 % |
| Potassium 100 mg |                      14 % |
| Carbohydrate 20 g |                      0 % |
|  Fibre 3 g |                      12 % |
|  Sugars 4 g | |
|  Sugar Alcohols 0 mg | |
| Protein 4 g | |
| Vitamin A |                      0 % |
| Vitamin C |                      0 % |
| Calcium |                      8 % |
| Iron |                      64 % |