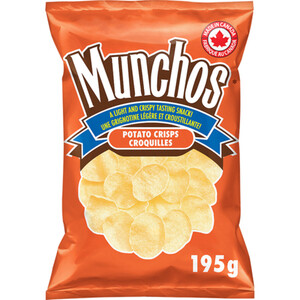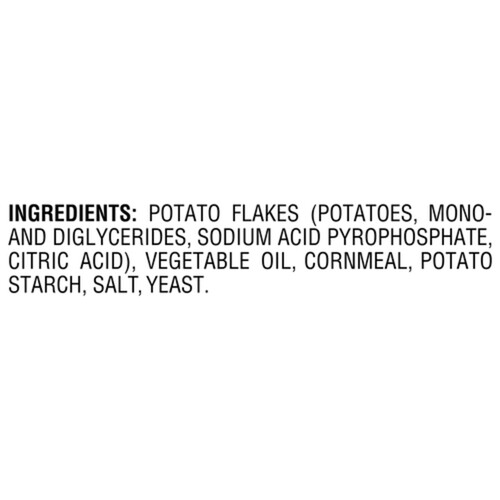 Munchos Potato Crisps 195 g
Product Information
So Light Tasting! So Crispy! Munchos® potato crisps are so light in texture and so incredibly different in taste that they are simply delicious. Your ideal snack for any occasion. So what are you waiting for- Tear open a bag & Enjoy!
Cooking & Usage Tips
Cooking instructions Stove top 5 minutes Stir regularly during cooking time. Microwave 1 minute / 125 ml 2 minutes / 450 ml Stir halfway through cooking. Cooking time may vary according to oven.
Nutritional Information
per Per 28 crisps (50 g
| Amount                               | % Daily Value |
| --- | --- |
| Calories 280 | |
| Fat 18 g |                      27 % |
|  Saturated 2 g |                      14 % |
|  + Trans 0 g | |
|   Omega-6 0 g | |
|   Omega-3 0 g | |
|  Monounsaturated Fats 0 g | |
| Cholesterol 0 mg | |
| Sodium 410 mg |                      17 % |
| Potassium 0 mg |                      0 % |
| Carbohydrate 28 g |                      9 % |
|  Fibre 2 g |                      7 % |
|  Sugars 0 g | |
|  Sugar Alcohols 0 mg | |
| Protein 2 g | |
| Vitamin A |                      0 % |
| Vitamin C |                      0 % |
| Calcium |                      0 % |
| Iron |                      2 % |