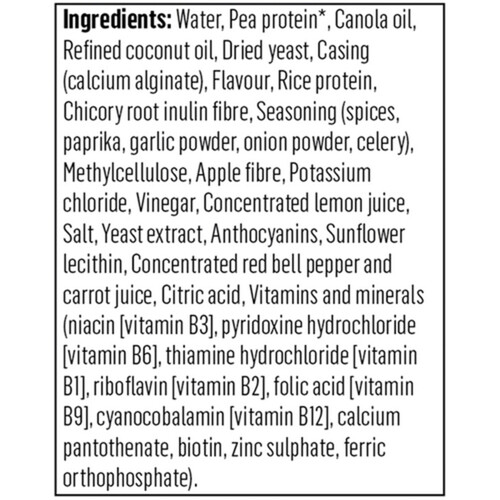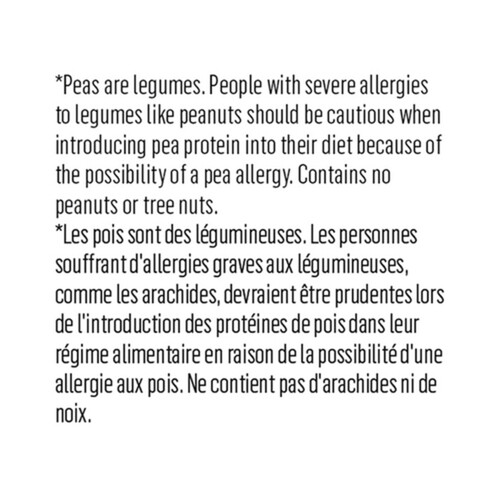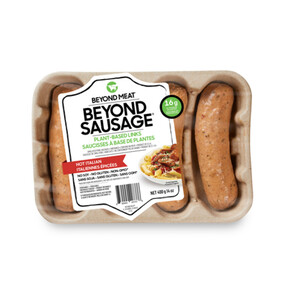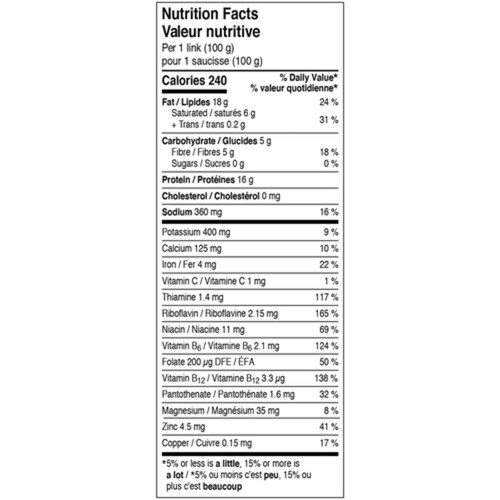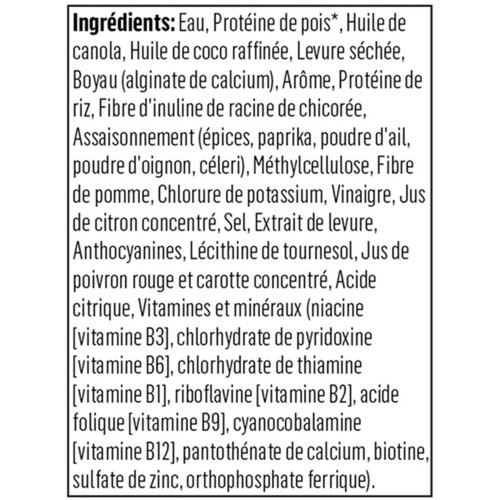 Beyond Meat Plant-Based Hot Italian Sausage 4 x 100 g
Product Information
Made with 100% plant based ingredients, No GMO's, Soy or Gluten, Vegan, Kosher, Halal, 0 Cholesterol, Good source of protein: 16 grams per Sausage. 30% Less fat and 50% less sodium than the leading branded Pork Sausage. No Synthetically Produced Ingredients, Colors or Additives or bioengineered ingredients, no hormones or antibiotics. Beyond Sausage uses 90% less water, 93% less land, nearly 50% less energy and emits 90% fewer greenhouse gas emissions to produce than traditional Pork sausage.
Cooking & Usage Tips
Grill Skillet Griddle Recommended cooking instructions - Keep refrigerated and use within 3 days of opening. Do not refreeze. Cook thoroughly before serving. - If purchased frozen, thaw in the refrigerator before cooking. Consume within 7 days of thawing. - Grill - pre-heat covered grill to 260°C (500°F). Lightly brush sausages with oil. Grill for about 9 to 10 minutes, turning frequently. - Skillet - heat a non-stick pan to medium to medium-high heat and lightly drizzle oil in pan. Cook for about 9 to 10 minutes, turning frequently. - Griddle - set non-stick griddle at 204°C (400°F) and cook for about 10 to 12 minutes, turning frequently. - Cook time may vary depending on equipment. Always cook to an internal temperature of 74°C (165°F). NOT RECOMMENDED: BOILING, MICROWAVING, OR COOKING FROM FROZEN.
Ingredients
Ingredients: Water, pea protein*, canola oil, refined coconut oil, dried yeast, casing (calcium alginate), flavour, rice protein, chicory root inulin fibre, seasoning (spices, paprika, garlic powder, onion powder, celery), methylcellulose, apple fibre, potassium chloride, vinegar, concentrated lemon juice, salt, yeast extract, anthocyanins, sunflower lecithin, concentrated red bell pepper and carrot juice, citric acid, vitamins and minerals (niacin [vitamin B3], pyridoxine hydrochloride [vitamin B6], thiamine hydrochloride [vitamin B1], riboflavin [vitamin B2], folic acid [vitamin B9], cyanocobalamin [vitamin B12], calcium pantothenate, biotin, zinc sulphate, ferric orthophosphate). *Peas are legumes. People with severe allergies to legumes like peanuts should be cautious when introducing pea protein into their diet because of the possibility of a pea allergy. Contains no peanuts or tree nuts.
Nutritional Information
per per 1 link (100
| Amount                               | % Daily Value |
| --- | --- |
| Calories 240 | |
| Fat 18 g |                      24 % |
|  Saturated 6 g |                      31 % |
|  + Trans 0 g | |
|   Omega-6 0 g | |
|   Omega-3 0 g | |
|  Monounsaturated Fats 0 g | |
| Cholesterol 0 mg | |
| Sodium 360 mg |                      16 % |
| Potassium 400 mg |                      9 % |
| Carbohydrate 5 g |                      2 % |
|  Fibre 5 g |                      18 % |
|  Sugars 0 g | |
|  Sugar Alcohols 0 mg | |
| Protein 16 g | |
| Vitamin A |                      0 % |
| Vitamin C |                      1 % |
| Calcium |                      10 % |
| Iron |                      22 % |