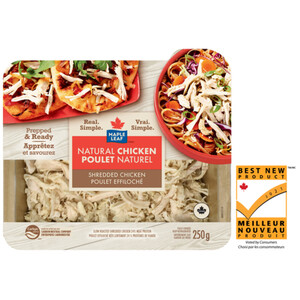 Maple Leaf Natural Shredded Chicken 250 g
Product Information
Enjoy succulent, slow-roasted chicken in your favourite dishes with Maple Leaf Natural Shredded Chicken. Made with our quality cuts of chicken, this delicious boneless chicken is lightly seasoned with real, simple ingredients, then slow roasted until tender and shredded to perfection. Try it in a wrap or quesadilla, or add cooked chicken to salads, soups, rice, or pasta for a quick, easy meal. Made for families, Maple Leaf brand offers premium meat using only natural ingredients with no artificial preservatives, flavours, colours, or sweeteners. Dedicated to providing wholesome, real food for Canadians for generations to come, Maple Leaf is the first major food company in the world to become carbon neutral. Join them in their commitment to build a more sustainable planet.
Cooking & Usage Tips
Rte No Prep
Ingredients
Chicken; Water; Salt; Vinegar; Sugar; Spice.
Nutritional Information
per 1/2 package (1
| Amount                               | % Daily Value |
| --- | --- |
| Calories 180 | |
| Fat 4 g |                      5 % |
|  Saturated 1 g |                      5 % |
|  + Trans 0 g | |
|   Omega-6 0 g | |
|   Omega-3 0 g | |
|  Monounsaturated Fats 0 g | |
| Cholesterol 125 mg | |
| Sodium 480 mg |                      21 % |
| Potassium 550 mg |                      11 % |
| Carbohydrate 2 g |                      1 % |
|  Fibre 0 g |                      0 % |
|  Sugars 1 g | |
|  Sugar Alcohols 0 mg | |
| Protein 34 g | |
| Vitamin A |                      0 % |
| Vitamin C |                      0 % |
| Calcium |                      1 % |
| Iron |                      7 % |