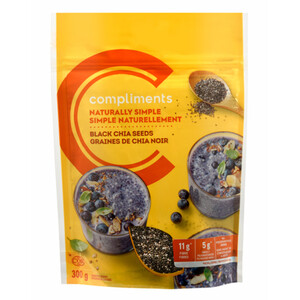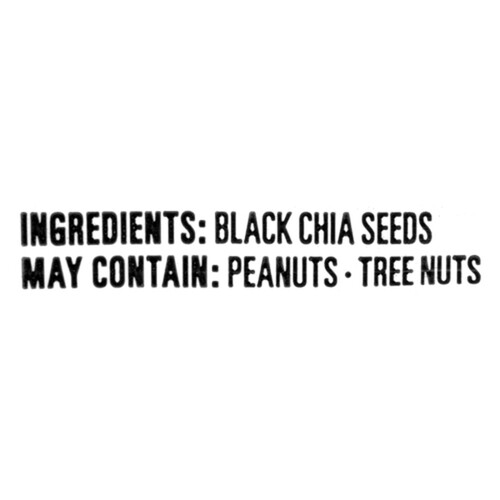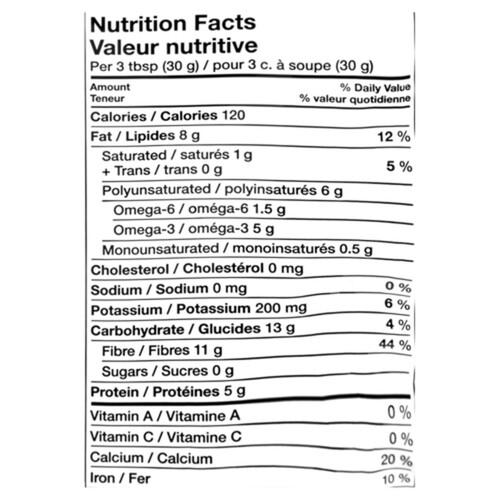 Compliments Black Chia Seeds 300 g
Product Information
Cooking & Usage Tips
Overnight chia pudding Prep time: 10 min. Total time: overnight refrigeration Serves: 4 3 tbsp (45 ml) black chia seeds 1 tbsp (15 ml) shelled hemp seeds 1 tbsp (15 ml) slivered almonds 1 tsp (5 ml) brown sugar 1/2 tsp (2 ml) vanilla extract 1 cup (250 ml) milk 1 cup (250 ml) frozen blueberries 1. Place all ingredients in a bowl and mix thoroughly. Transfer to an airtight container and refrigerate overnight. 2. Stir before serving. Tips Substitute brown sugar for maple syrup, honey or coconut sugar. Substitute milk for coconut, almond, rice or soy milk.
Ingredients
Ingredients: Black chia seeds. MAY CONTAIN: peanuts, tree nuts
Storage
Storage Refrigerate after opening.
Nutritional Information
per 3 tbsp (30 g)
| Amount                               | % Daily Value |
| --- | --- |
| Calories 120 | |
| Fat 8 g |                      12 % |
|  Saturated 1 g |                      5 % |
|  + Trans 0 g | |
|   Omega-6 2 g | |
|   Omega-3 5 g | |
|  Monounsaturated Fats 0 g | |
| Cholesterol 0 mg | |
| Sodium 0 mg |                      0 % |
| Potassium 200 mg |                      6 % |
| Carbohydrate 13 g |                      4 % |
|  Fibre 11 g |                      44 % |
|  Sugars 0 g | |
|  Sugar Alcohols 0 mg | |
| Protein 5 g | |
| Vitamin A |                      0 % |
| Vitamin C |                      0 % |
| Calcium |                      19 % |
| Iron |                      8 % |