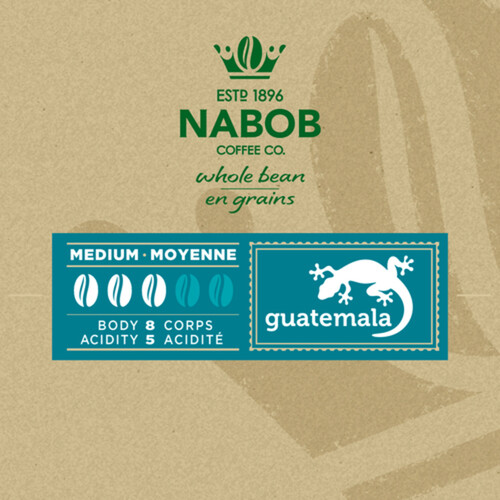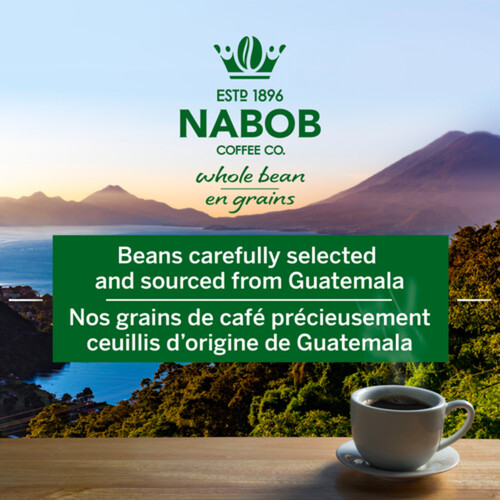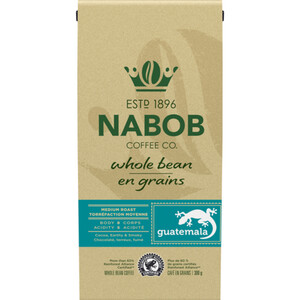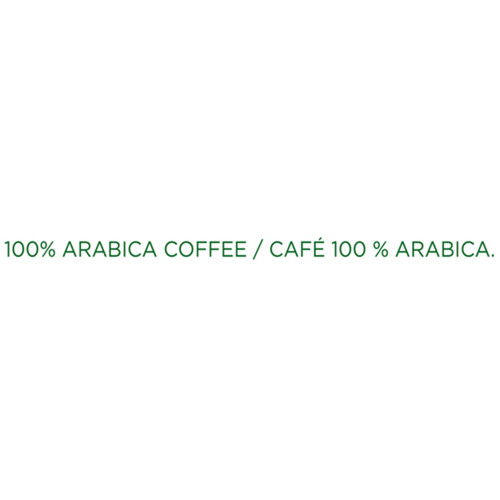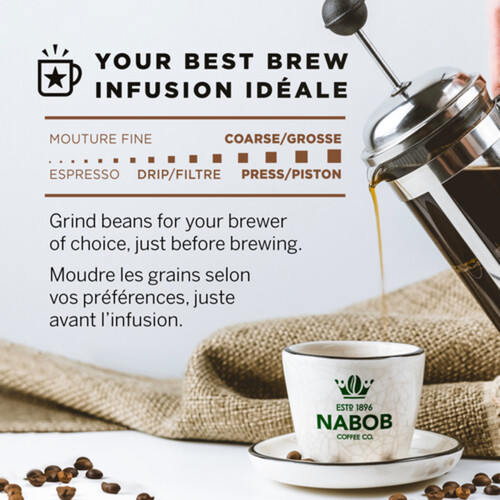 Nabob Whole Bean Guatemala Coffee 300 g
Product Information
Nabob Guatemala Whole bean takes you on a coffee journey way up high in the Guatemalan mountains where these single origin beans are grown. Rich and complex, the beans are roasted just so to bring out their earthy, smoky flavour with a hint of cocoa that's unique to the region. Grown high in the Guatemalan mountains, these single origin beans are rich and complex.
Product Features
One bag of Nabob Guatemala Whole Bean Coffee (300g)
Ingredients
Filling Mix: Sugar, Corn Dextrose, Modified Potato Starch, Cheese Powder (Skim Milk, Lactic Acid, Bacterial Culture, Silicon Dioxide, Bha), Hydrogenated Coconut And Soybean Oil, Corn Syrup Solids, Sodium Phosphates, Modified Palm Kernel Oil, Modified Milk Ingredients, Calcium Sulphate, Lactic Acid, Calcium Lactate, Dipotassium Phosphate, Salt, Mono- And Diglycerides, Propylene Glycol Monostearate, Acetylated Monoglycerides, Modified Cellulose, Tricalcium Phosphate, Hydroxylated Soy Lecithin, Artificial And Natural Flavour, Silicon Dioxide, Microcrystalline Cellulose, Colour (Contains Tartrazine).Crust: Enriched Wheat Flour, Graham Flour, Sugar, Soybean Oil, Honey, Salt, Sodium Bicarbonate, Monocalcium Phosphate, Artificial Flavour, Sulphites.
Nutritional Information
per 100 GR
| Amount                               | % Daily Value |
| --- | --- |
| Calories 0 | |
| Fat 0 g |                      0 % |
|  Saturated 0 g |                      0 % |
|  + Trans 0 g | |
|   Omega-6 0 g | |
|   Omega-3 0 g | |
|  Monounsaturated Fats 0 g | |
| Cholesterol 0 mg | |
| Sodium 0 mg |                      0 % |
| Potassium 0 mg |                      0 % |
| Carbohydrate 0 g |                      0 % |
|  Fibre 0 g |                      0 % |
|  Sugars 0 g | |
|  Sugar Alcohols 0 mg | |
| Protein 0 g | |
| Vitamin A |                      0 % |
| Vitamin C |                      0 % |
| Calcium |                      0 % |
| Iron |                      0 % |