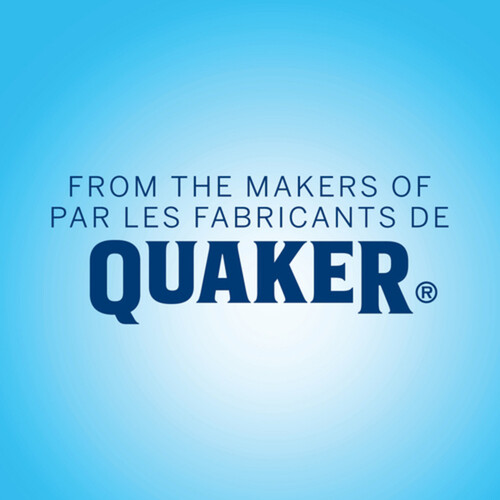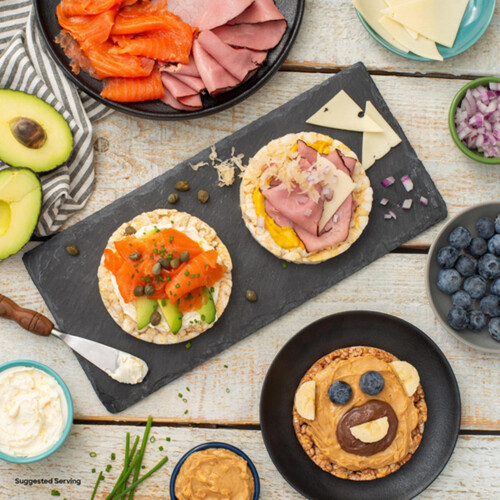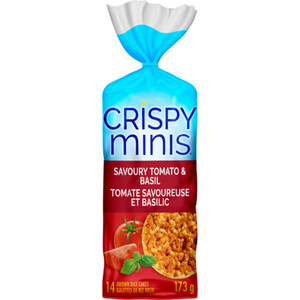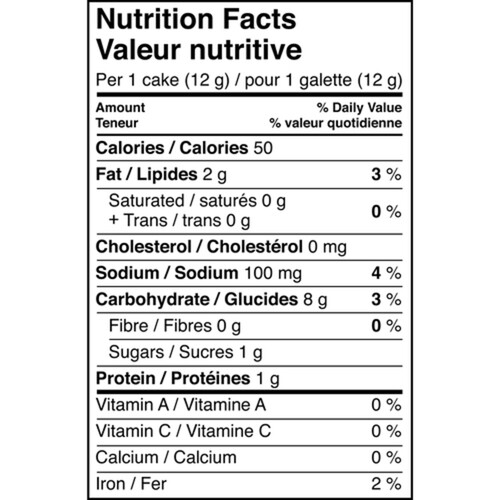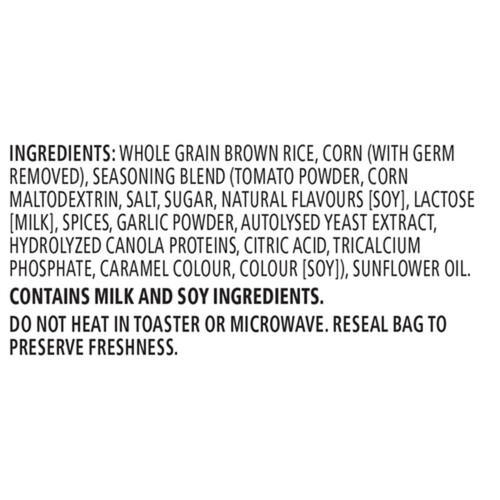 Quaker Gluten-Free Crispy Minis Brown Rice Cakes Savoury Tomato & Basil 173 g
Product Information
Tomato and basil? Sounds like the makings of fantastic pizza sauce. These crispy rice snacks taste great right out of the bag - but layering on some of your favourite pizza topping flavours adds to the snack time fun, creating an even better taste sensation. 14 rice cakes included.
Product Features
50 CALORIES PER SERVING
Cooking & Usage Tips
Do not heat in toaster or microwave. Reseal bag to preserve freshness.
Ingredients
Whole grain brown rice, corn (with germ removed), seasoning blend (corn flour, tomato powder, salt, sugar, dextrose, spices, garlic powder, autolyzed yeast extract, hydrolyzed canola proteins, citric acid, hydrogenated soybean oil, tricalcium phosphate, natural flavours, lactose [milk], caramel colour, colour, soy lecithin), sunflower oil. Contains: soy and milk.
Nutritional Information
per (12 g)
| Amount                               | % Daily Value |
| --- | --- |
| Calories 50 | |
| Fat 2 g |                      3 % |
|  Saturated 0 g |                      0 % |
|  + Trans 0 g | |
|   Omega-6 0 g | |
|   Omega-3 0 g | |
|  Monounsaturated Fats 0 g | |
| Cholesterol 0 mg | |
| Sodium 100 mg |                      4 % |
| Potassium 0 mg |                      0 % |
| Carbohydrate 8 g |                      3 % |
|  Fibre 0 g |                      0 % |
|  Sugars 1 g | |
|  Sugar Alcohols 0 mg | |
| Protein 1 g | |
| Vitamin A |                      0 % |
| Vitamin C |                      0 % |
| Calcium |                      0 % |
| Iron |                      2 % |