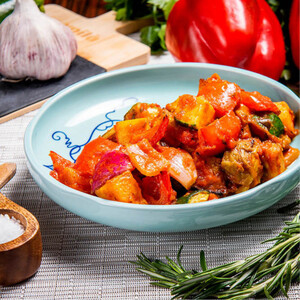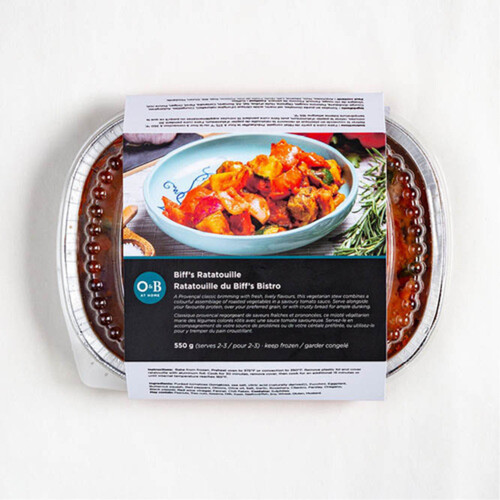 Oliver & Bonacini Biff's Ratatouille
Product Information
Recreated as a homestyle vegetable medley à la Biff's Bistro, this Provençal classic is an adaptation of a dish from Chef Anthony Walsh's formative days at Auberge du Pommier. Brimming with fresh, lively flavours, this vegetarian stew combines a colourful assemblage of roasted eggplant, zucchini, onions and butternut squash in a savoury tomato sauce. Serve alongside your favourite protein, over your preferred grain, or with crusty bread for ample dunking.
Cooking & Usage Tips
Bake from frozen. Preheat oven to 375°F or convection to 350°F. Remove plastic lid and cover ratatouille with aluminum foil. Cook for 30 minutes, remove cover, then cook for an additional 15 minutes or until internal temperature reaches 165°F.
Ingredients
Puréed tomatoes (tomatoes, sea salt, citric acid (naturally derived)), Zucchini, Eggplant, Butternut squash, Red peppers, Onions, Olive oil, Salt, Garlic, Rosemary, Cilantro, Parsley, Oregano,Black pepper, Red wine vinegar, Fennel, Chili flakes. Contains: Sulphites. May contain: Peanuts, Tree nuts, Sesame, Milk, Eggs, Seafood/fish, Soy, Wheat, Gluten, Mustard.