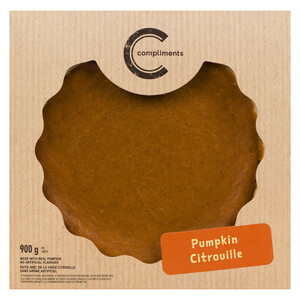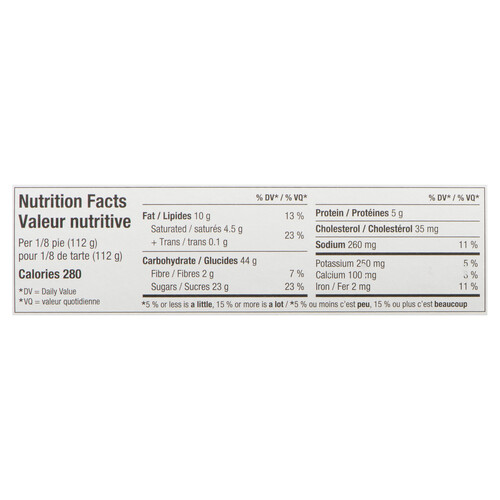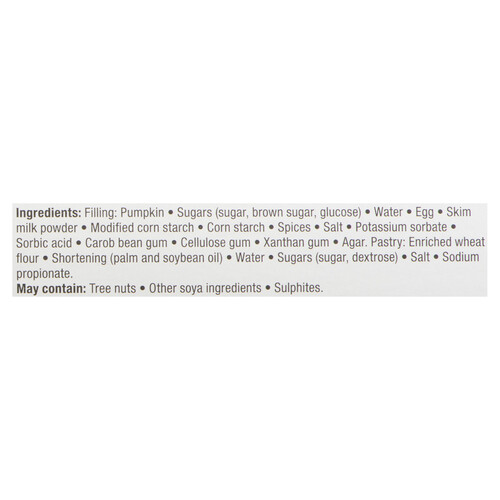 Compliments Frozen Pumpkin Pie 9-inch 900 g
Product Information
-
Cooking & Usage Tips
Reheating instructions Conventional oven: 1. Prep preheat oven to 150°C (300°F). Remove packaging. 2. Heat place pie on a baking sheet on the middle rack of the oven. Heat for 15-20 minutes until heated through. 3. Serve Individual appliances vary; these are guidelines only.
Ingredients
Ingredients: Filling: Pumpkin, Sugars (sugar, brown sugar, glucose), Water, Egg, Skim milk powder, Modified corn starch, Corn starch, Spices, Salt, Potassium sorbate, Sorbic acid, Carob bean gum, Cellulose gum, Xanthan gum, Agar  Pastry: Enriched wheat flour, Shortening (palm and soybean oil), Water, Sugars (sugar, dextrose), Salt, Sodium propionate
Storage
Storage If purchased frozen, keep frozen.
Preparation And Usage
Safe handling Do not refreeze thawed product.