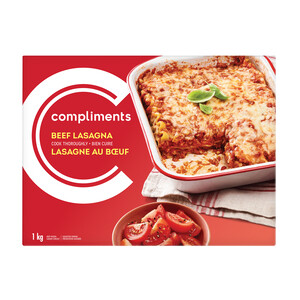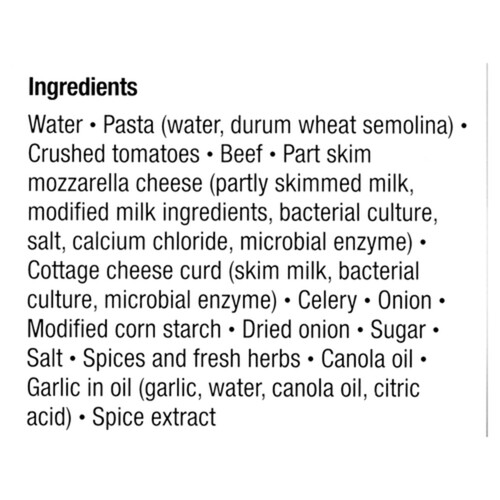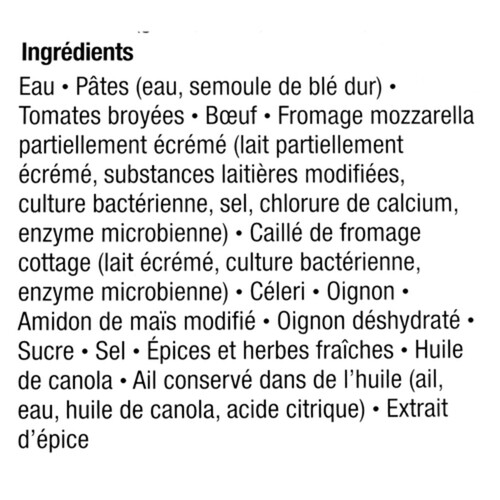 Compliments Meat Lasagna 1 kg
Product Information
Compliments Rich & Creamy Meat Lasagna features layers of seasoned beef in tomato sauce, topped with gooey mozzarella cheese and a creamy Béchamel sauce. High in potassium, fibre, vitamin A and calcium.
Cooking & Usage Tips
Oven: Cook from frozen. Preheat oven to 190°C (375°F). Remove foil tray from packaging. Tent the aluminum foil lid over the lasagna to allow steam to escape. Place tray on a baking sheet on the middle rack of the oven. Cook for 1 hour and 40 minutes. Remove foil lid and cook for an additional 15-20 minutes to brown the cheese. Since ovens vary in temperature, these are guidelines only. Remove from oven and let stand for 10 minutes before serving.
Preparation And Usage
Cook thoroughly Safe handling Keep frozen until ready to use. The lasagna is cooked when an internal temperature of 74°C (165°F) is reached.
Nutritional Information
per 1/3 tray (300 g)
| Amount                               | % Daily Value |
| --- | --- |
| Calories 360 | |
| Fat 13 g |                      30 % |
|  Saturated 6 g |                      35 % |
|  + Trans 0 g | |
|   Omega-6 0 g | |
|   Omega-3 0 g | |
|  Monounsaturated Fats 0 g | |
| Cholesterol 35 mg | |
| Sodium 660 mg |                      28 % |
| Potassium 450 mg |                      13 % |
| Carbohydrate 40 g |                      13 % |
|  Fibre 4 g |                      16 % |
|  Sugars 6 g | |
|  Sugar Alcohols 0 mg | |
| Protein 23 g | |
| Vitamin A |                      0 % |
| Vitamin C |                      0 % |
| Calcium |                      17 % |
| Iron |                      14 % |