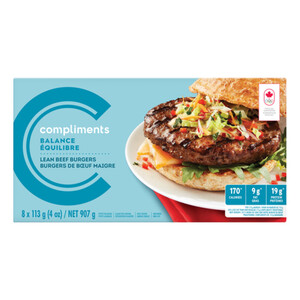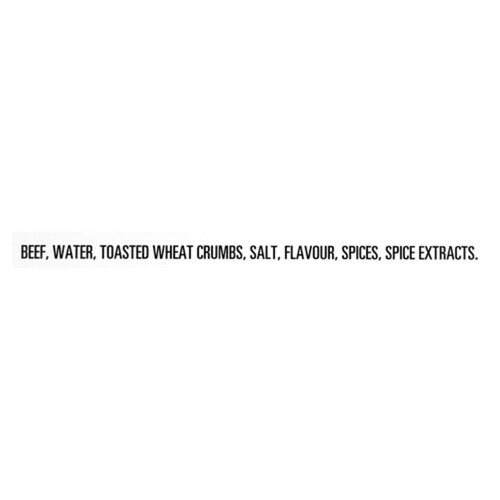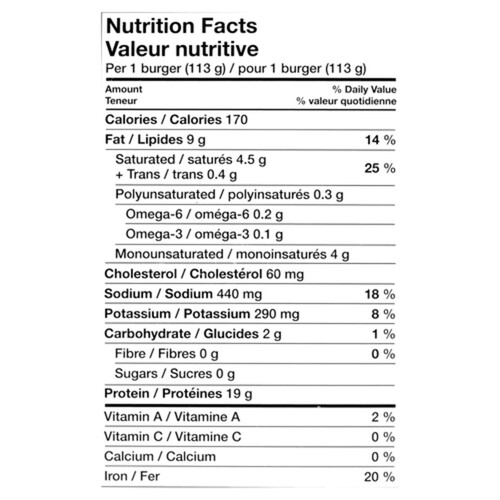 Compliments Lean Beef Burgers 8 Patties 907 g
Product Information
A lighter choice that's heavy on flavour. Compliments Lean Beef Burgers contain 9 g of fat and 19 g of protein per serving.
Cooking & Usage Tips
Pan Fry: Cook from frozen. Fry burgers over medium heat for 4 to 5 minutes per side in an oiled pan until cooked. Other: BARBECUE Cook from frozen on a pre-heated grill on medium-high heat. With lid down, grill burgers for 5 to 7 minutes per side, turning occasionally until cooked.
Ingredients
Ingredients: beef, water, toasted wheat crumbs, salt, flavour, spices & spice extracts.
Nutritional Information
per 1 burger (113 g)
| Amount                               | % Daily Value |
| --- | --- |
| Calories 170 | |
| Fat 9 g |                      12 % |
|  Saturated 4.5 g |                      25 % |
|  + Trans 0.4 g | |
|   Omega-6 0 g | |
|   Omega-3 0 g | |
|  Monounsaturated Fats 0 g | |
| Cholesterol 60 mg | |
| Sodium 440 mg |                      19 % |
| Potassium 300 mg |                      6 % |
| Carbohydrate 2 g |                      1 % |
|  Fibre 0 g |                      0 % |
|  Sugars 0 g | |
|  Sugar Alcohols 0 mg | |
| Protein 19 g | |
| Vitamin A |                      0 % |
| Vitamin C |                      0 % |
| Calcium |                      1 % |
| Iron |                      14 % |